September 19, 2013
I've officially become really bad at updating this section… partly because I've been more focused on writing lately than web updates… and partly because I've just gone through my annual summer comedy hiatus. The other reality is that I spend a lot more time updating my Facebook page.
For some reason, much of the material I've been writing lately focuses on getting older. I think it's a combination of feeling older than I used to… and being self conscious of being a lot older than most of my city's young up and coming comedy superstars.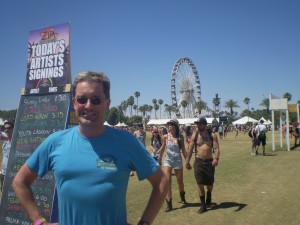 This spring, I had the chance to feel really old when I spent three days in a field under a 100 degree sun at the Coachella Festival in California, just outside of Palm Springs. The good part: I got to see an incredible amount of bands all in one weekend: New Order, Blur, Orchestral Maneouvres In The Dark, Nick Cave & The Bad Seeds, Franz Ferdinand, Violent Femmes, Sparks, Vampire Weekend, The Lumineers, Of Monsters And Men, Hot Chip, Rodriguez, and more.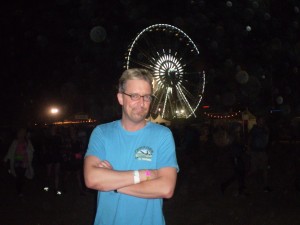 The bad part: it was three days crammed against stages with 80,000 twenty year-olds and me. The weirdest part was that if a guy smashed into me, he'd be like "oh, sorry man"… whereas the girls kept running into on purpose me like they thought they could take me.
I had the pleasure of meeting one of my favorite rock stars of all time – Adam Ant – in Minneapolis earlier this month. He's looking a little Johnny Depp these days… especially on stage… though he's calling back his pirate roots from the Adam & The Ants days. If you get a chance to check out his North American tour… it's a classic hit-filled show.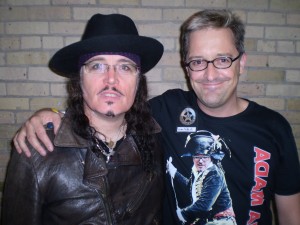 The 2013 fall/winter tour starts tonight in glamorous Morden, Manitoba! Forget California… that's where the action is! See you this fall in a small town near you… .
Cheers,
Jason