It's been an insanely busy holiday season… working a lot… even hammering out new material on John A. MacDonald. That's right… I'm trying to produce the definitive bit on the first Prime Minister of Canada: the guy on the ten dollar bill. Turns out he's a treasure trove of material… even though most people don't even know who he is.
Had a fantastic time during the Rumor's 25th Anniversary Weekend performing with Derek Edwards, Mike Wilmot, Trevor Boris, Lawrence Morgenstern, Dave Hemstad, Dan Licoppe and more. It was a great weekend highlighted by a heartfelt hour-long speech on Saturday afternoon by owner Ross Rumberg. A great time was had by all!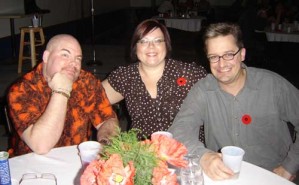 I also had a great time playing two nights in The Pas, Manitoba last month with Big Daddy Tazz and Heather Witherden. The people in The Pas are a great comedy crowd and know how to set up the perfect corporate show. The Pas continues to be my favorite town to perform in!
November 1, 2007
It's been an exciting fall so far. Most notably, I met the greatest hockey player in the game today, Sidney Crosby, in Minneapolis a few days ago.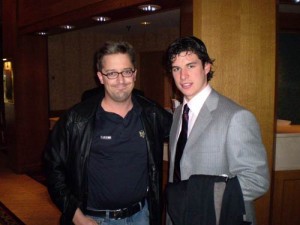 As a lifelong Pittsburgh Penguin die-hard fan (so much so that I drove to Pittsburgh and was in the victory parade when the team won the Stanley Cup in 1991), it was incredible to speak with the already legendary 20-year-old.
For a young superstar, in person he was a really nice guy.
On the comedy front, Rumor's Comedy Club in Winnipeg is celebrating its 25-year anniversary with some big shows on November 16th and 17th that will feature some of the country's best headliners including Derek Edwards, Mike Wilmot, Billy Bob Joe Taylor, my friend Trevor Boris and more special guests including yours truly. There are shows at 7:45 and 10:30 both nights and tickets are available at (204) 488-4520. I recently had the pleasure of working with Jimmy Schubert… an old school super talented Philly comic whose Comedy Central special has been slapped all over Youtube. The guy was insanely funny… I would recommend seeing him if the chance ever comes up. Lots of road shows coming up between now and Christmas… including two nights in The Pas, Manitoba (one of my favorite towns to perform in!) and four… that's right four… shows in Virden, Manitoba! Something tells me there won't be anyone left in the town that hasn't seen my act by the end of 2007!
October 3, 2007
It's October… and I'm recharged after resting my brain for a good part of August. I just had the pleasure of headlining in Morris, Manitoba for the first time. That's just the kind of bristling, seat-of-your-pants, red hot comedy excitement that would bring any comic back to life. There's nothing like a good Plum Coulee joke to liven up everyone's evening. After a brief hiatus, The Charleswood Comedy Night show at the Charleswood Hotel in Winnipeg is resuming on Monday, October 22nd. Along with yours truly, the show will feature such local yuksters as Kenton Larsen, Ryan McMahon, Darcy Taves and Jason Niziol.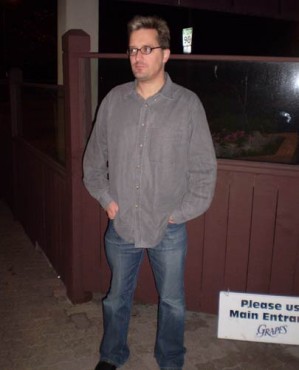 As we approach Christmas party season, I've been focused once again on new material and even a new look on stage. My good friend Trevor Boris recently talked me into buying a new comedy outfit that was a little "hipper" so to speak (apparently wearing black pleaded dockers with a t-shirt made me look like an aged, outdated freak). I've now switched to extremely tight, crotch-hugging Trevor Boris-approved jeans and a long shirt. So far, the dozen or so shows I've done with the new look have gone fantastic. I always knew my career would really take off the day I got into Trevor's pants… . I'm here all night…
August 1, 2007
Another year of 5 Winnipeg Comics at the Winnipeg Fringe Festival is behind us!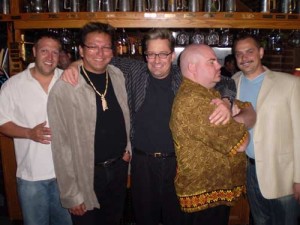 It was a great year… with Big Daddy Tazz, Gerry Barrett, Rob Bruneau, Warren Persowich and myself all writing to a specific childhood theme. The reviews were good… the crowds were supportive… and I feel like I've finally explored my inner child on stage.
As I ended up doing a total of 23 shows in the month of July… I'm planning to spend most of the next month sleeping! Wake me up next month.
July 20, 2007
At long last… tonight is the start of "5 Winnipeg Comics in… The BIG BIG Show: I Don't Wanna Grow Up!" at the Winnipeg Fringe Festival!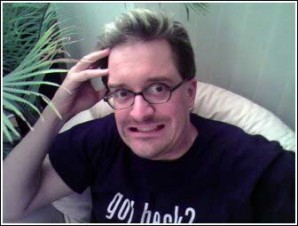 Ten straight nights of comedy bliss with my co-horts Big Daddy Tazz, Gerry Barrett, Warren Persowich and Rob Bruneau. We're performing 8:00 p.m. nightly at the Winnipeg Press Club, in the Marlborough Hotel, 331 Smith Street. Tickets are available at the door or by calling 9-4-FRINGE. Lots of laughs and drinks in an air-conditioned, fully-licensed venue! For more on the show… click here.
Last Friday, July 13th, I was featured in a Globe & Mail story about how collecting Star Wars stuff is more "in" now. The response to the story has been great. The highlight of which being friend and fellow comedian Trevor Boris e-mailing me to say: "you're more famous for being a nerd than a comic now!" Hey… there's no such thing as bad… ah… whatever.   See you at the Fringe!
Cheers, Jason
June 22, 2007
Things have been pretty exciting lately. Last week, two past members of 5 Winnipeg Comics – Trevor Boris and Jewish mountain gorilla Mel Silverback – appeared on Last Comic Standing on NBC!
Mel has made it to the next round in Hollywood! It was great seeing good friends on the show along with a number of other comics I've enjoyed working with over the years such as Ryan Belleville, Debra DiGiovani, J.R. Brow and, of course, judge and former winner Alonzo Boden.
I'm still frantically working on figuring out my inner child in time for the Winnipeg Fringe Festival a month from now. "The BIG BIG Show: I Don't Wanna Grow Up!" will be the first childhood themed Fringe show ever for 5 Winnipeg Comics. My Mom has reacted prety much as expected… she has boycotted the show and actually booked plane tickets out of town for the entire 10-night Fringe run! Real nice. If she was worried I was going to be too hard on her before… .
The weekend of July 6th to 8th, I'll be headining three shows at the Gimli Theatre Festival… doing 45-50 minutes every show. The exciting Gimli weekend will be a good primer for the Fringe… as I will be putting a lot of new material to the test. I've been spending my summers out in Sandy Hook, Manitoba since I was two… so it's always great getting a chance to perform at my old stomping grounds. This will be my first shows in Gimli in six years!
The last time I appeared there… I made a deal with a British pub to perform in exchange for all the beer I could drink. Not surprisingly… the place went under. This time… the shows will be in a church! Looks like I may have to "Be Undrunk" this time around.
May 26, 2007
Check out the Detour section of today's Winnipeg Free Press for an in-depth story on my unhealthy obsession with Yoda the Jedi Master!  You can see new photos of my world famous Yoda Room by clicking on the Photos link above!
May 16, 2007
Check out the new 5 Winnipeg Comics poster for this year's Winnipeg Fringe Festival below!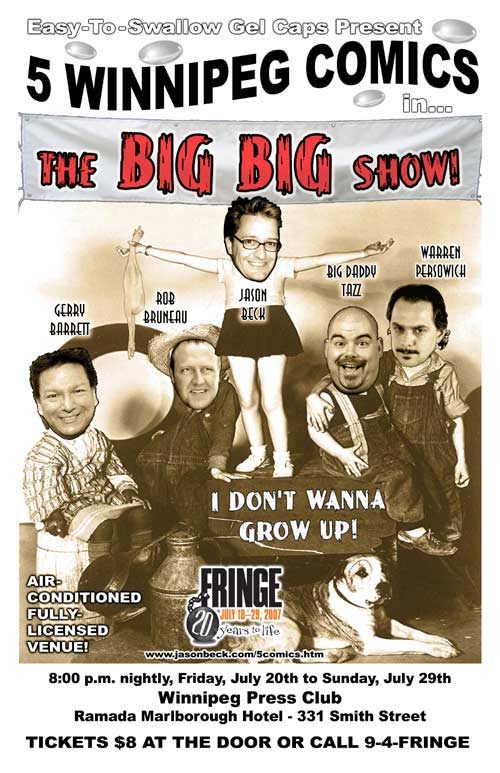 Poster's done…. now I just gotta write some new jokes!
April 4, 2007
It was an incredibly busy month of March! It was a 15-show month that featured one of the most satisfying sets of my life at the Just For Laughs Manitoba Homegrown… my inexplicable third corporate booking in a year and a half in the tiny town of Gainsborough, Saskatchewan… and one of my favorite nights of all time at Rumor's Comedy Club… as I had the opportunity to perform in a killer show during the CBC Winnipeg Comedy Festival that included myself, Sean Majumder, Lawrence Morgenstern, Rick Currieand Tracey MacDonald all on the same bill!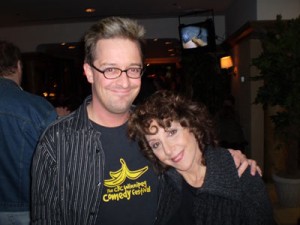 I also got to meet another one of my SCTV idols at the Festival… the legendary Andrea Martin! Witnesses will tell you I almost crumbled in her presence. To meet up with the woman who created such amazing characters as Edith Prickley, Pirini Scleroso and Libby Wolfson was a career highlight.
Next week… I'll be on the road as part of the CBC Winnipeg Comedy Festival Rural Tour… performing in Portage La Prairie and Inglis, Manitoba. Preparations for the 8th straight year of 5 Winnipeg Comics at the Winnipeg Fringe Festival are well underway. The new show – featuring myself, Warren Persowich, Rob Bruneau, Big Daddy Tazz and Gerry Barrett - will be called 5 Winnipeg Comics in… "The BIG BIG Show: I Don't Wanna Grow Up". It will be an exploration of the path from childhood angst to our current messed-up adult states. That means I get to write new material and dig up repressed memories at the same time!
February 8, 2007
Had a great time last night performing in a showcase for Comedy Now! on CTV/The Comedy Network at Rumor's Comedy Club. It was a packed house and it was a pleasure to be part of a showcase that included many of Winnipeg's most-established headliners including Dean Jenkinson, Jimmy Mac, Jon Ljungberg, Ross Rumberg, Warren Persowich, and Gerry Barrett. With Glen Foster headlining the show… it was a killer night of comedy. I'm also pleased to announce that next summer's "5 Winnipeg Comics" show at the Winnipeg Fringe Festival will feature the addition of two fantastic headliner comics – Big Daddy Tazz and "The Big Bear" Gerry Barrett. As a guy who started doing amateur nights in the late '90s when these guys were already emceeing and headlining… it's a real honor to have them in the show. It's only five months away!
January 18, 2007
Still recovering from a psychotically busy December. This included having my annual January cold and spending a week passed out. To quote the famous Rob Bruneau: "good times".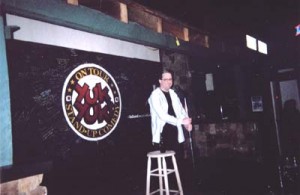 Had a great finish to 2006… highlighted by a really enjoyable four show run in Regina with Dan Licoppe. Played a Yuk Yuk's room called Fibber Magees and had a blast. The set-up was so great, I felt like I was on "Evening At The Improv".
Except, of course, the place was filled with Saskatchewan types who are just a little different from a Los Angeles Sunset Strip crowd. Fibber Magees is probably one of my favorite rooms to play in the country… who knew Regina had so many hidden treasures!
5 Winnipeg Comics will be returning to the Winnipeg Fringe Festival for our 8th straight year this summer… and we are excited that a couple of national headliners have been added to this year's line-up. It's going to be a BIG BIG show. More info will be coming soon!
December 12, 2006
I've been a little lazy with the updates lately… primarily because I've been living in a different small town every weekend for past month or so! Christmas party season – which brings with it a host of drunken Christmas party hecklers – is a fun and glorious time. As of today… I've got seven shows coming up in the next seven nights… so things won't be slowing down any time soon! More updates will be forthcoming in the new year. Have a happy holiday and a great 2007!
October 20, 2006
Just got back from a fantastic week in Toronto, performing at Yuk Yuk's Toronto, Eton House, Spirits Bar & Grill and at The Rivoli in a showcase for the HBO Aspen Comedy Festival. Over the course of the week, I performed with some of the best comics in Canada, including Sean Cullen, Pete Zedlacher, Jon Dore,legendary Winnipeg headliner Kenny Robinson, Laurie Elliott, Alex Nussbaum, Ron Sparks, Fraser Young, Dan Quinn, Boyd Banks, Gavin Stephens, Mark Forward, Perry Perlmutar, Winston Spear, JJ Whitehead, Joanna Downey, and good friend and former "5 Winnipeg Comic" Trevor Boris.
Speaking of Trevor, I attended his Comedy Now! taping at Trinity Studios for CTV/The Comedy Network. He had a great set, and when he did a few of his classic old bits, like his Speed Reader joke, I had flashbacks of our first Fringe Festival show back in 2000. It was great to see some of that old classic material being recorded for national television! I also saw part or all of the Comedy Now! tapings for Kenny Robinson, Toby Hargrave and Mark Forward in the same night. With the big T.O. week behind me… now I can concentrate on the big mission… playing every inch of Saskatchewan one town at a time!
September 28, 2006
It's that time of year again when I seem to be spending all of my time either writing or booking corporate shows. The Christmas season is insanely busy every year. Speaking of corporate shows… I've vowed never to use a cordless microphone to do stand-up at a corporate show again! Ijust did a corporate show in Portage La Prairie, Manitoba in which the mic died repeatedly… including during my closer! Never again!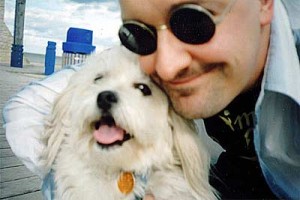 Last weekend, I spent 48 hours alone at my cottage in Sandy Hook, Manitoba with one of my three dogs (Tazzy) and a laptop. I did nothing but write jokes. I've been hammering away on my obsessive compulsive and nerd material… and came away with roughly 30 premises I'm zooming in on. I think I'm more anxious than ever to start breaking in a new dimension to my act.
On Thanksgiving Day, Monday, October 9th, I'll be heading back to Toronto for a week to do shows and see my good friend Trevor Boris tape his Comedy Now special for CTV/The Comedy Network. Considering that we started doing shows together more than eight years ago… it will be great to be in the room for the taping. The week will be good times all around, as I'll be staying with another good friend, Winnipeg comic Rob Bruneau, who's spending a few months in Toronto doing shows. I'll have a full slate of shows over the week, performing at Yuk Yuk's in downtown Toronto, Spirits Bar & Grill, Eton House and The Rivoli - where I'll be performing in a special comedy showcase for the Aspen Comedy Festival! The weekend after I get back, my first ever show in Moosejaw, Saskatchewan awaits! The dream continues.
August 23, 2006
Tomorrow on CBC Radio, the Winnipeg edition of "So, You Think You're Funny?" will be airing at 11:30 a.m. Winnipeg time! It will also be broadcast at 7:30 p.m. on Friday night.
The show will feature material and interviews with Rob Bruneau, Kelly Loewen, Warren Persowich, Heather Witherden and myself. Cheers, Jason  August 1, 2006 I'm excited! On Monday, August 14th, I'll be producing a special All-Star Winnipeg Comedy Spotlight at Rumor's Comedy Club in which comics will be taped for a possible inclusion in CBC Radio's "So, You Think You're Funny? " comedy radio show! The show will be hosted by Big Daddy Tazz and feature myself, Warren Persowich, Rob Bruneau, Charlie Onyske, Kelly Loewen, Bob Smith, Ron Moore, Darcy Taves and more! Tickets are only $5 and are available at (204) 488-4520. It's a special night for the Winnipeg comedy scene. Come check it out!
July 31, 2006
The seventh straight summer of 5 Winnipeg Comics at the Winnipeg Fringe Festival is finally behind us… and I'm pretty much coasting on fumes at this point.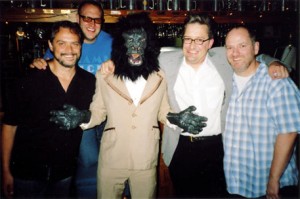 Overall, this year's show had a number of highs and lows. Our reviews were not as glowing as in past years (3 stars in the Winnipeg Free Press, for example)… as we had the misfortune of having critics show up so early in the run that the crowd was ridiculously tiny for a stand-up show.
On the many, many nights in which our killer emcee Mel Silverback and my comedy cohorts had great sets to packed rooms… not one critic was present. We also took some flack for having so many jokes about Winnipeg in our show… when all critics over the years have universally  praised that aspect of the show. Reviews are a coin toss… they depend on whether you get a fair critic or not and on what night they show up… and this year we lost the toss.
Someone also stole the giant wooden sandwich board that we have used to promote our show near in the main festival grounds near the beer tent for the past seven years! We think it may have been one of Silverback's female ex-companions who couldn't get enough of "the Melster" and wanted to fill her den with as many Mel photos as possible. On the  positive side… our attendance was even higher than last year… and the show itself was our most Fringe-like to date. Mel Silverback got funnier and funnier every night… improvising new lines as he went along… and ultimately doing a ventriloquist act with a little ape puppet on our closing night! A big "thank you" to everyone who came out to support the show!
July 15, 2006
This summer's Winnipeg Fringe Festival is finally upon us … and I'm really excited about this year's show. Whereas the 5 Winnipeg Comics shows for the previous six years were pure stand-up with the odd song parody thrown in… this year is our most Fringe-like show ever because of our new member, Mel Silverback. The idea of having a foul-mouthed Jewish mountain gorilla comic in a suit and bow tie emcee the show every night makes me laugh just thinking about it. 5 Winnipeg Comics in… "The Evolution Of Comedy" starts this Wednesday, July 19th and runs at 8:30 p.m. nightly for 12 straight nights until Sunday, July 30th. The show is at the Winnipeg Press Club (Venue 19) and tickets are available at the door or by calling 9-4-FRINGE. Click HERE for more info.
By the way… I finally got around to building a MYSPACE page. By the time I looked into it, someone in the states with the same name had already taken my name… so I had to settle for the address www.myspace.com/comicjasonbeck. I had tried a different name earlier, but realized I wasn't in the comedy section and had to delete the whole MYSPACE page and start over! I haven't done much with it yet but I'm hoping to add some new video soon. My only beef with MYSPACE: now I've got two sites to update! Aaaaagh!!!!!
June 14, 2006
Things are insanely busy once again… as this year's 5 Winnipeg Comics show at the Winnipeg Fringe Festival draws near… and I continue on my quest to play every small town on the planet! This Friday… the dream continues in Thompson, Manitoba… . Our extremely wacky new Fringe poster for this year's show "The Evolution Of Comedy" is now posted in the 5 Winnipeg Comics section. Our actual real naked bodies were used in the making of the poster… especially Rob Bruneau's. I think it's one of my favorite posters of the last seven years… right up there with the peanut ca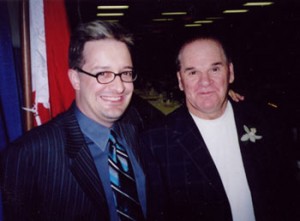 n one for "What Has 5 Heads And 9 Nuts?" and the circus poster for "THE FUNNIEST SHOW ON EARTH! (Results May Vary)". All seven posters are now posted in the section.
Got a chance to meet legendary baseball superstar Pete Rose at an event in Winnipeg recently. Really cool guy with a pretty funny perspective on his ban from the baseball hall of fame and the whole gambling fiasco. Listening to him speak… you gotta think he's going to make it in to the hall of fame someday!
More updates coming soon as Fringe 2006 draws near!
Had a great time performing at Zanies Comedy Club in Chicago on Sunday night!
Performing on the bill with comics Bill Bunker, Brian Aldridge and headliner Skip Griparis, I had a blast doing a set of my favorite generic material… including a U.S. version of my "Be Undrunk" joke that worked. Zanies is a classic intimate comedy room that was a thrill to perform in!
May 9, 2006
This summer's 5 Winnipeg Comics show at the Winnipeg Fringe Festival is only two months away… and it's officially going to be the weirdest, most Fringe-like show we've ever put on. 
5 Winnipeg Comics in… "The Evolution of Comedy" will feature the Winnipeg Fringe debut of Jewish mountain gorilla Mel Silverback… who will be emceeing the show for 12-straight nights alongside myself, Warren Persowich, Charlie Onyske and Rob Bruneau. The 80-minute stand-up show – which can be best described as "a humorous exploration of the comedic differences between man and ape" – will in fact be the 7th straight 5 Winnipeg Comics show at the Fringe! That makes me feel about ninety…
The love child of a mountain gorilla and a Catskill's comedian… Mel Silverback has taken his career all the way from the wilds of Africa to the jungles of the comedy stage, enduring cougars, hecklers and other nightclub predators during his climb to the top of the nasty show stand-up circuit. Over his lengthy career, Mel's extensive credits have ranged from performing in the Alternative Stand-up Stage Festival in Vancouver,  the Real Madness Comedy Festival in Toronto, to entertaining intoxicated swingers in small town dives. Mel recently opened for Randy and Lahey of the Trailer Park Boys and  was a runaway hit  at the CBC Winnipeg Comedy Festival.
I can't wait to see  Mel flinging his comedic stylings toward Winnipeg Fringe Festival audiences! Watch for our wacky poster… coming to this site later this month!
Things continue to be insanely busy. I'll be out of town for the next week as I'll be doing a guest spot at Zanies Comedy Club in Chicago on Sunday night along with headliner and frequent Tonight Show guest Skip Griparis. Megastar comedian Dave Chappelle is performing on the same stage five days earlier! Time to find out just how universal my material is!
Cheers, – Jason 
Had a great time both performing and attending parties and galas at the CBC Winnipeg Comedy Festival.
There were a lot of great highlights. I got to see some well-deserving good friends of mine – such as Big Daddy Tazz, Trevor Boris and Warren Persowich – have successful gala performances. I got to spend some time partying with some o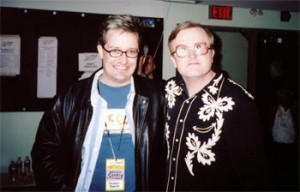 f my favorite people in the industry who I usually only get to speak to by phone. I got to perform in Festival shows at Rumor's and the King's Head Pub.
And I got to spend some time getting to know Bubbles from Showtime's Trailer Park Boys! A big congratulations to Al Rae and his team for a well-run, truly enjoyable event!
March 30, 2006
Things have been insanely busy lately… as March has been a 16-show month and April is shaping up to be just as busy!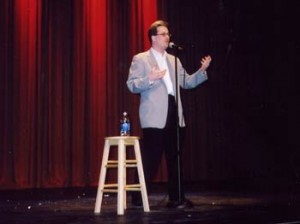 The highlight of the last month – without question – was last Saturday night when I had the opportunity to perform a 20-minute spot opening for Stewart Francis and my good friend Big Daddy Tazz at The Burton Cummings Theatre in Winnipeg.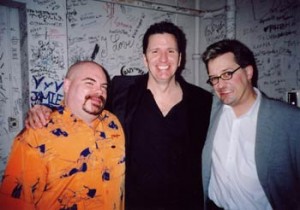 I love doing theatre shows… and it was a well-run top notch night with a great crowd. Tazzy was hilarious as always and Stewart's killer one-liners blew me away.
If only every gig could be like that one… . I'm looking forward to April already, though, as I'll be performing in the CBC Winnipeg Comedy Festival next week! I'll be hosting a show at Rumor's Comedy Club on Tuesday, April 4th with American comic Louis Ramey and performing in The Winnipeg Show at the King's Head Pub on Friday, April 7th with Big Daddy Tazz, Dan Licoppe, Irwin Barker, Bruce Clark and host Dean Jenkinson! It'll be great to share the stage with some of Winnipeg's best comics of the past two decades! Tickets are available at Ticketmaster.
March 1, 2006
The last month was a lot of fun. I had the pleasure of doing a show with Paul Provenza, director of the dirty joke movie The Aristocrats, a few weeks back at Rumor's Comedy Club.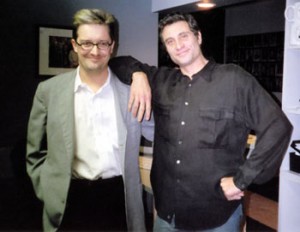 Paul is one of those special Bill Hicks/Richard Pryor types of comics who wears his heart on his sleeve on stage and says what he feels. He was an extremely friendly guy and an inspiration to work with.
Paul is also known for playing the doctor who replaced Fleischman (Rob Morrow) on the final season of Northern Exposure and for playing Blair's boyfriend Casey on The Facts Of LIfe (sorry, I wasn't able to pry any Tootie gossip out of him… ).
If you're a comedy fan and aren't easily offended… pick up The Aristocrats on DVD. If you've already seen it… the extras on the DVD are amazing and make it worth seeing again. But be warned… as Paul says on stage… "if you let your Grandma watch it… it will probably kill her… ." The new material explosion has taken a great leap forward in the past month. I'm looking forward to debuting my new material on divorce, ring tones, Linens -n-Things, and, oddly enough, Sigmund Freud, at the Winnipeg Fringe Festival this summer.
Congratulations to my good friend and original member of 5 Winnipeg Comics Trevor Boris on what has been an amazing last few weeks. First, he lost by a hair at the Yuk Yuk's $25,000 Great Canadian Laugh Off, coming in second in the country… then he was selected to tape a half hour Comedy Now special for CTV/The Comedy Network in October. Considering that he's already taping galas for the Winnipeg and Halifax Comedy Festivals and can be seen regularly on Much Music's "Video On Trail", I think 2006 is going to be the year of the gay farmer. It's awesome that an original Winnipegger from the old Press Club Comedy Nights is ripping it up to such an extent down East! For more… go to Trevor's web site at www.TrevorBoris.com.
Now back to my comedy career… I get to play Carievale, Saskatchewan on St. Patrick's Day! The dream continues… .
February 1, 2006
I'm finally back to performing after lots of shoulder physio and rehab!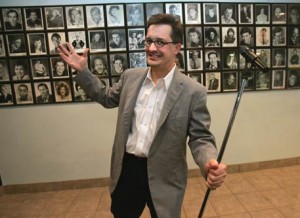 The one positive thing about lying in bed all day for weeks is that it gave me some time to conceive a considerable amount of new material. Monday night at Rumor's Comedy Club, I did a 10 minute spot in which eight or so minutes was brand new… and I was satisfied with how a lot of it was received. Now it goes through the tweaking process!
The next few months I'm hoping to hammer out an all new set for next summer's 5 Winnipeg Comics show at the Winnipeg Fringe Festival. It's a whole new year and I've already started booking shows into April. Looks like the rest period has officially ended.
January 9, 2006
My New Year has gotten off to a slow start as I've injured my rotator cuff and have been sidelined for a few weeks. At least I'm getting that break from performing that I wanted! I'll post another update when I'm back in the land of the living. Happy New Year!