December 23, 2009
Another decade is behind us…. and I'll be closing out the year by doing two shows with the incomparable Big Daddy Tazz on New Year's Eve. at Rumor's Comedy Club. The shows are at 6:00 pm and 10:00 pm and tickets are available by calling (204) 488-4520.
Have a happy holiday season and a great 2010!
December 1, 2009
It's been an incredibly busy last month or so.
First and foremost, Rumor's Comedy Club re-opened on Tuesday, November 3rd. It's been great being back in my home club. What made it even more special is that the club launched a new menu that features the "Jason Beck Beef Melt". You know you've reached a special point in your comedy career when a comedy club names a beef melt after you!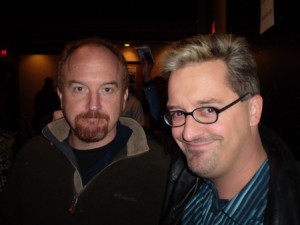 Winnipeg just enjoyed what I believe was the busiest week for stand-up comedy in the city's history. During a six-day period in November, the city was treated to headliner shows by Russell Peters, Debra DiGiovanni, Louis CK, Ron James (with Big Daddy Tazz and Dan Licoppe), Daniel Kinno and Gerry Dee!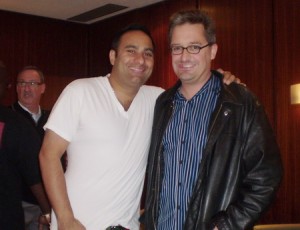 I had the pleasure of being a part of three of them, and taking in two of the others.
The past month has been about dreams coming true… as I performed for the first time in such Manitoba towns as Rivers, Hamiota and Boissevain… and glorious Lampman, Saskatchewan.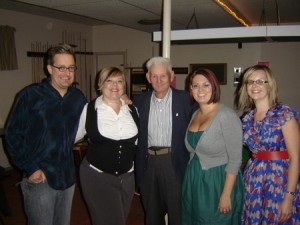 For the shows in Rivers and Hamiota, I was joined by a trio of Winnipeg female comics… Heather Witherden, Cara Lytwyn and Rachel Sommer (seen here from left to right after me with a fan from the show in Rivers – I think I've found my target market… ).
Last night, the Press Club Comedy Night celebrated its 11-Year Anniversary with a special show that featured myself, Big Daddy Tazz, Mel Silverback, Rob Bruneau, Dan Verville, Kevin Dobbie, Ben Beauchemin and Dan Huen. Back in November 1998, Open Mic Nights did not exist in Winnipeg. For the sake of stage time, I started up a monthly show that featured myself along with Trevor Boris, Kenton Larsen, Charlie Onyske, host Pat Riordan and year-by-year a growing number of up-and-coming comics. After nearly four years, the show was relocated due to the club's membership restrictions and ultimately spent two years at the West End Cultural Centre before moving to the Pyramid Cabaret, the Charleswood Hotel and, finally, back to the Press Club. Going into 2010, the show continues with a new name and some new challenges. The room has recently been leased by a new company that has renamed the venue: "The Cavern At The Marlborough". That's right. There is now a second "Cavern" venue hosting open-mic comedy in Winnipeg. As a result, for the sake of simplicity, the Press Club Comedy Night will for now on be called The Marlborough Comedy Night (located in The Cavern At The Marlborough). Thanks to everyone who supported the show. It's the end of the year and we're hitting the home stretch.
On December 20th, I'll be performing in a special fundraiser for the Christmas Cheer Board at the Gas Station Theatre along with Bob Smith, Rob Bruneau, Keener and J. Williamez. For tickets, go HERE. Cheers, Jason 
October 5, 2009
Summer of 2009 was a strange one for me. As a result of flooding, Rumor's Comedy Club ended up being shut down for four months (the club officially re-opens on Tuesday, November 3rd).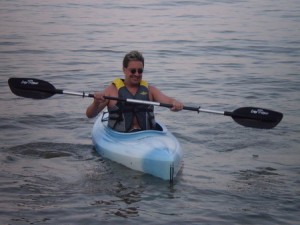 This meant I actually had some time for a real summer vacation. In a strange turn of events, I ended up buying a kayak and cruising around Lake Winnipeg for much of the summer months – which totally goes against my usual "absolutely no physical exercise whatsoever" policy. The best part about spending the summer kayaking and sitting around bonfires was that it cleared my mind and generated a lot of new material ideas. In the past month, I've started working out some of the new stuff and I'm hoping to have it ready to roll out when the club re-opens.
In the month ahead, there are a lot of interesting shows on the horizon. This Thursday, I'll be headlining a rare North End show at the Green Brier on Main Street. Next week, I'll be doing half hour sets on Thursday and Saturday. On Thursday, October 15th, I'll be performing in a fundraiser for Crime Victims at the Marlborough Hotel, along with Darryl Purvis and Video On Trial's Debra DiGiovanni (tickets are available at the door at from 7:00 pm on that night).
On Saturday, October 17th, I'll be opening for Gerry Dee at the Burton Cummings Theatre. Tickets are available at Ticketmaster by clicking here.
Last week I took part in a studio taping of a set for Shaw Cable in Winnipeg – which means a short set and an interview will be running on the Shaw television station repeatedly over the next month. The show also features performances from Rob Bruneau, Keener and Jamaal Simms.
August 1, 2009
It has been a very unusual summer so far…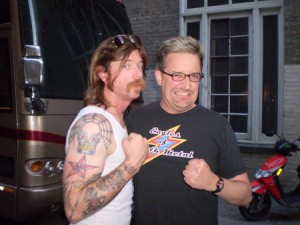 And not just because I got to meet one of my heroes last Sunday – singer Jesse Hughes of The Eagles of Death Metal (pictured with me in an alley).
On Tuesday, July 14th – just moments before comedian Leland Klassen and I were walking into Rumor's Comedy Club in Winnipeg to perform – the club was flooded after a massive afternoon downpour! As we walked in, people were running out and the club was inches deep in water. I've had tough shows before… but I can't remember the last time God sent a flood… .
In the end, the damage was so extensive the club has been shut down until October. Given that Rumor's is my home club and I've been performing there on a weekly basis for the past eight years or so, this has given me an unexpected summer vacation. So far, I've been using the time to recharge my batteries and develop some new material before the psycho-busy holiday season begins. Even though the break has been a refreshing one, I'm really looking forward to getting back on stage at the club and working out some new jokes. Hopefully that will be sooner than later.
June 20, 2009
Pittsburgh Penguins Win Stanley Cup!!!!!!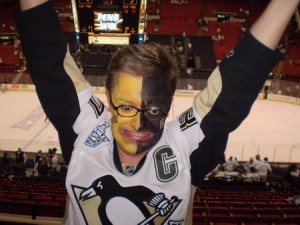 I've been extremely distracted over the past two months by the National Hockey League playoffs. For the second straight year, I flew to Pittsburgh for the Stanley Cup final. It was a much better result this year as the Penguins won the Stanley Cup for the first time since their two straight championships in 1991-1992!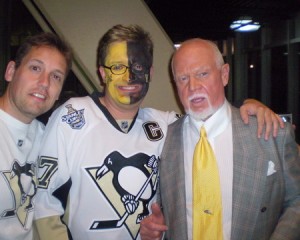 This time, I went hardcore and opted for the full facepaint. This seemed to open doors for me in Pittsburgh, as I ended meeting a number of hockey celebrities including Pierre McGuire, Kelly Hrudey and the legendary Don Cherry!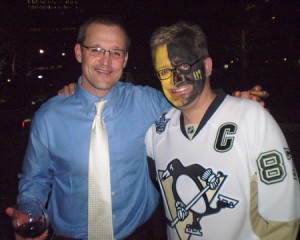 At the end of the night, while waiting for a cab after celebrating the Penguins' win at the SuperBowl pub in Pittsburgh, I heard a voice say "nice facepaint" and it turned out to be Penguins head coach Dan Bylsma! I had a chance to tell him that I had journied from Winnipeg and about my history as a lifelong Pens fan.
He was a really nice guy and I'm still stunned that he actually stopped me to say hello. Talk about a coach who wants to communicate with the fans!
The craziest thing about this whole playoff run has been trying to squeeze my pre-booked comedy gigs into the middle of it all. As it turned out, the deciding Stanley Cup game 7 in Detroit came on Friday, June 12th – a night in which I was scheduled to perform the first of two nights in Regina.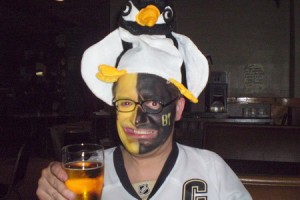 Luckily, the show didn't start until a half hour or so after the Cup was presented and I was able to take in the moment and enjoy the dozens of phone calls to my cell phone. By the end of the night, I was onstage in full Penguin gear and being heckled by a drunken, disgruntled Red Wings fan!
I'm really looking forward to celebrating this all summer long!
May 1, 2009
"So this guy with poofy hair in a Winner's shirt goes on stage at the Gas Station Theatre…"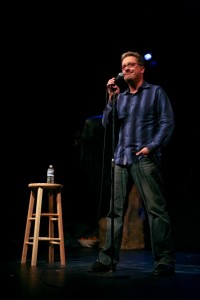 Had a fantastic time at this year's CBC Winnipeg Comedy Festival, performing in The Winnipeg Show at the Gas Station Theatre and the Kings Of Komedy show with Steve Patterson at Rumor's Comedy Club. The host of CBC's "The Debaters" is also one of the country's best headliners, and it was great to work with him again for the first time in three years or so.
Also had a chance to chat with Kids In The Hall member Kevin McDonald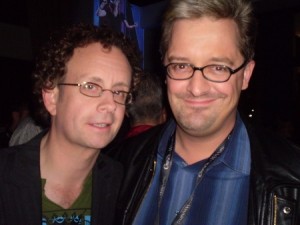 … … and party it up with comedic genius/CBC Winnipeg Comedy Festival Artistic Director Al Rae and the hilarious Tim Steeves (below). It was a great year for the Fest and the shows I attended drew big crowds and even bigger laughs.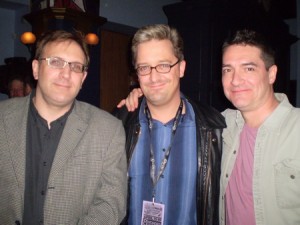 I got a particular kick out of the Dark & Stormy Show, which was packed wall to wall at the Park Theatre. Despite my tendency to strive for corporate clean comedy, seeing normally ultra-clean buddy Brad Muise up there exploring his dark, sicker side had me urging to get on stage and go to the jokes I usually save for dive bars on the road or heckler-infested late shows on Friday night.
Perhaps every clean comic has a little repressed Mel Silverback lurking within? It was dark, it was stormy and the crowd ate it up. Looking forward to the summer and the chance to turn my engagement – and the deadspin.com craziness (see last post) – into some refreshing new material.
April 22, 2009
It's been a really strange last few days. Last week, some guy living in Pittsburgh placed an ad on Craigslist offering to give a free ticket to the Pittsburgh Penguins playoff game against Philadelphia on Friday night to any woman who would agree to be his date. He also provided a list of criteria that the woman had to fit within with regards to her age and appearance, etc., and insisted that she provide a picture.
So, on Friday afternoon, Deadspin.com runs a story making fun of this guy. Because they didn't have a photo of the guy to run with the story, the writer does a Google search on the words "die hard penguin fan" and somehow comes up with MY PICTURE (either from this web site or Facebook).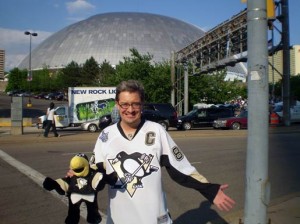 As a result, the picture of me at the Stanley Cup final last year (below) ends up at the top of the article next to the headline: Penguins Fans Are Not All Desperate, Hard Up For Dates
It gets better. Because we live in the age of the Internet in which everyone is free to blog, comment, slam, and attack anyone and anything at will… more than 10,000 people view the article and a number of people assume I'm the desperate guy and start ripping me apart.
So, one minute I'm sitting at home minding my own business, the next, people are going online saying that I look like an "old lesbian" and making inappropriate comments about the physical relationship I may or may not be having with the stuffed penguin. The Winnipeg Sun ran a story on the whole thing today. Click HERE to see the Deadspin.com story. Click HERE to read the Winnipeg Sun article.
The weirdest thing about the whole incident is that I find it all hilarious. I've spoken to a lot of people who've said they would have freaked out and been really upset with Deadspin.com for using the picture in the story, but in all honesty when I read the comments ripping apart my appearance I couldn't stop laughing.
Maybe as a comic, I've become so self-depracating and oblivious to heckling in any form that I'm immune to abuse when it comes to my appearance. Or maybe I've just come to appreciate a really good burn.
April 10, 2009
It's been one of the busiest stretches of my life and so much has happened, I haven't even thought about posting an update in months.
Most notably, as noted in last weekend's Winnipeg Free Press, I finally gave in to my marriage issues and got engaged. After 13 years of living with my significant other, Chantal, I finally made the move. I'm still as cynical about marriage as I ever was… but now I'll be able to criticize it with a front row seat. The plan is to get married in July 2010. Given that every joke in my act is true and entirely based on my real life, this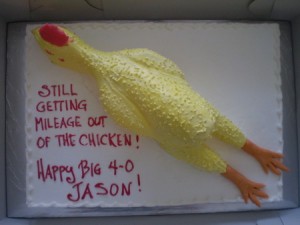 will hopefully lead to a creative explosion of new material.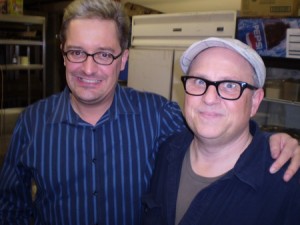 I also turned 40, as horrifying as that sounds, and was presented with an amazing rubber chicken cake!
Next week, I'm looking forward to performing in The Winnipeg Show in the CBC Winnipeg Comedy Festival. The show takes place at the Gas Station Theatre at 10:30 p.m. on Friday, April 17th, and features myself along with Winnipeg comics Big Daddy Tazz, Bruce Clark, Dan Licoppe, Dean Jenkinson, Trevor Boris, Irwin Barker and Aaron Merke. Tickets are available by clicking here.
Last weekend, I had the pleasure of performing two shows at Rumor's Comedy Club with the legendary Bobcat Goldthwait! Now a film director, he still rips apart the room on stage. it was a pleasure to see an 80s stand-up icon blowing away Winnipeg audiences.
January 15, 2009
It's 2009 and in celebration of the New Year, I've finally put some new video clips up on the site! Go to the Audio/Video section to check them out.
November 20, 2008
My good friend and early comedy mentor Pat Riordan passed away last week. Today was his funeral.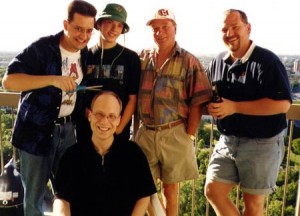 Pat was an old-school comic. He was a classy performer who was quick-witted and treated both his audiences and his fellow performers with respect.
While he is perhaps best remembered in Winnipeg for the two plus decades he spent headlining at the Viscount Gort Hotel and the Champs Motor Hotel (now the Osborne Village Inn), and for his charity work with the Variety Club of Manitoba and Big Brothers, I'll always remember him best for how much he helped me as a comedian.
Ten years ago, Pat volunteered to host the monthly Press Club Comedy Night at the Winnipeg Press Club for free, in an effort to help raise money for the non-profit club and help the amateur comics develop. For the next three and a half years, myself, Trevor Boris, Kenton Larsen, and Charlie Onyske had the pleasure of working with Pat and learning from one of the best. Regardless of how bad a set went for one of us, Pat was always there to get the crowd back before the next comic got on stage. Pat even took us on the road from time to time, most notably a crazy weekend doing two nights in a condemned hotel in Carman, Manitoba. The four of us learned a lot about doing stand-up on the road, staying in a hotel with bullet holes in the walls, a German Sheppard roaming the hallway and fights breaking out during the show. I'll never forget being on stage as a guy broke a bottle over another guy's head, with the manager just motioning me and saying "keep going… keep going… ."
I'll also never forget my favorite Pat Riordan line: "last night I picked up some Visine and some Viagra. I just wanted to take a good, long hard look at myself."
Rest in peace, Pat. You will be missed.
Had a fantastic time performing at Yuk Yuk's Comedy Club in Vancouver last weekend.
The place was packed and I had the pleasure of performing with comics Sean Proudlove, Michael Gelbart and Tyler Hawkins.
The club easily lived up to its reputation as one of the best in the country! I look forward to performing in British Columbia more often in the years ahead.
October 29, 2008
It's been an interesting month.
Winnipeg's Charleswood Hotel,  which I grew up down the street from and have run the Charleswood Comedy Night at for the past three years, is being torn down to build a Co-Op Gas Station. Considering the long history of the building and its significance to the neighborhood… it's a sad day. Unfortunately, the news of the venue's closing has come on such short notice that there won't be a final show at "The Charley". The hotel's last day open for business will be this Sunday, November 2nd.
Next month is, ironically, the 10-year anniversary of the open mic show itself. The show began as The Press Club Comedy Night back in November 1998 (with an original monthly line-up of myself, Trevor Boris, Kenton Larsen, Charlie Onyske and host Pat Riordan), and spent three and a half years at that venue before being moved to the West End Cultural Centre, the Pyramid Cabaret and, eventually, the Charleswood Hotel. In the spirit of "the show must go on"… next month the show will be moving back to its original home!
On Monday, November 24, The Press Club Comedy Night will resume back in the room where it all started, The Winnipeg Press Club in the Marlborough Hotel in downtown Winnipeg. Of course, The Press Club is no longer in business, but the empty room will be opened up and transformed back into a comedy venue for one Monday every month.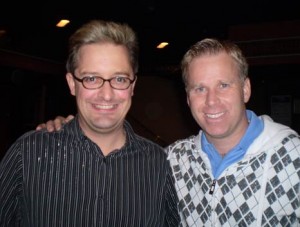 The first show will be the 10-Year Anniversary Show and feature a special line-up.
Had a great time performing at the Burton Cummings Theatre on the weekend with headliner Gerry Dee. Gerry absolutely destroyed and the night was laugh-filled for all.
This weekend, I'm performing in Vancouver for the first time in history. The fall is off to a great start.
September 18, 2008
I've been gearing up for the busy Christmas party season. With 10 shows in the last three weeks, I'm back in the zone and looking forward to hitting the road in the months ahead.
On Saturday, October 25th, I'll be opening for national headliner Gerry Dee at the Burton Cummings Theatre in Winnipeg. Gerry's pretty much done it all. He's had a Just For Laughs gala, he made it to the final three in NBC's Last Comic Standing last year and he's headlined across Canada many times over. He also had a major role as Ricky and Julien's nemesis in Trailer Park Boys: The Movie. Tickets for the show are available at Ticketmaster.
August 22, 2008
After taking much of the summer off from performing for the first time in a decade, I feel somewhat refreshed and am looking forward to getting back to performing on a regular basis again starting next week. I've actually started writing again over the past few weeks… and am looking forward to going in some new directions on stage in the months ahead.
July 4, 2008
Due to an injured left knee and some throat issues… I've taken a brief hiatus from stand-up for the past few weeks. The knee injury was caused by a pack of savage dogs. That's right. My three dogs were barking late at night and I injured my knee running up the stairs to stop them. In light of this, I anticipate taking a bit of a break from stand-up in July. Happy 4th of July to all you Americans… who end up on this site when you google the words "Mel Silverback"… .
June 14, 2008
It's been a month or so since my last update because I've been extremely distracted by the NHL hockey playoffs.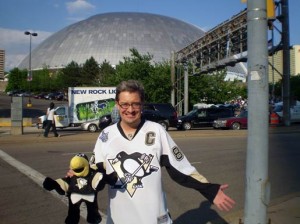 As I've been a die-hard Pittsburgh Penguins fan since I was little (I actually drove to Pittsburgh and was in the victory parade when the team first won the Stanley Cup in 1991), a few weeks back I flew to Pittsburgh for Game 4 of the Stanley Cup final against the Detroit Red Wings.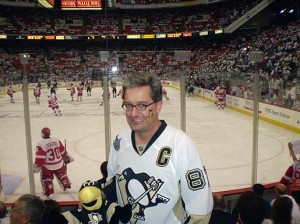 Had a fantastic time sitting right behind Detroit Red Wing goalie Chris Osgood for two of the three periods.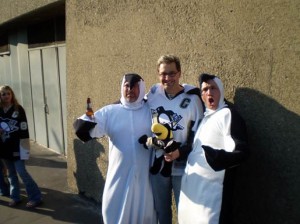 For me, there is nothing like spending three days in a city in which everyone is wearing Penguin jerseys and talking about nothing but the Penguins.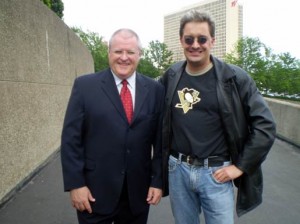 At the game, I ran into a lot of crazy Penguin fans and even TSN Analyst Bob McKenzie!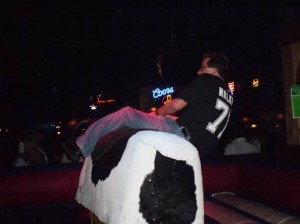 We ended up losing the game 2-1, which – of course – led me to end up on a mechanical bull later in the evening. Not exactly the best way for an out-of-shape guy to wrap up an evening!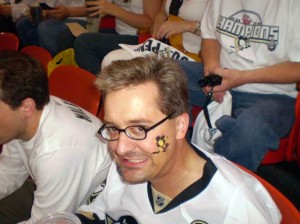 We ended up losing the series in six and three-quarter games… but it was an amazing season for a team that was the worst in the league exactly two years ago. They are going to win Cups in the next decade. It's just a matter of how many.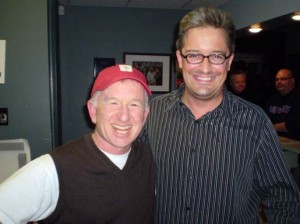 See the facepaint? Did I mention I was a die-hard?
Back on a comedy note, I got a chance to work with legendary Canadian headliner Ron James in May. Great guy and still puts on a clinic on stage.
With my first break from the Winnipeg Fringe Festival in nine years coming this summer, I am really looking forward to spending some time writing and lying on the beach for once!
April 24, 2008
For years, I've had people telling me I reminded them of comedian Greg Proops from "Who's Line Is It Anyway?" and in the last month I finally got the chance to do a couple of shows with him. While I don't think we look as much alike as we used to (a few years back when we had the exact same glasses), you'll notice in the picture below that we wouldn't look out of place singing a version of The Proclaimers' "500 Miles" together in a karaoke bar.
Greg was a really down-to-earth, extremely intelligent guy whose stand-up is both clever and original. On top of all that, considering that Greg played one of the two-headed alien play-by-play announcers in the pod race scene in "Star Wars: The Phantom Menace"… there was much Yoda conversation to be had!
April was also a great month in that I had the opportunity to do two shows in The Winnipeg Comedy Festival: one at the Gas Station Theatre with Big Daddy Tazzand a handful of local comics and one on the road in Clearwater, Manitoba with Tazz and one-man improv machine Steven McIntyre. Clearwater was one of my favorite road shows of the last few years and I really look forward to performing there again. Gotta go… the polygamist ladies are on CNN again…
March 14, 2008
It's been a fantastic couple of weeks. On Tuesday… I headlined Rumor's Comedy Club for the first time and had a blast. I did just under an hour of what was essentially a ten year "best of" set.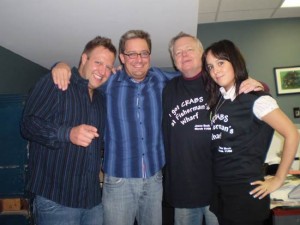 The show also raised over $1200 for the Shealon Kuly fundraiser, as nearly 200 tickets were sold. The funniest thing was that the club actually had t-shirts printed up to commemorate the event that quoted my "crabs at fisherman's wharf" joke. The entire staff was wearing them… which set the stage for a crazy night.
I'd like to thank club owner Ross Rumberg for giving me the opportunity, my good friend Rob Bruneau for opening the show and all those who came out for the big event.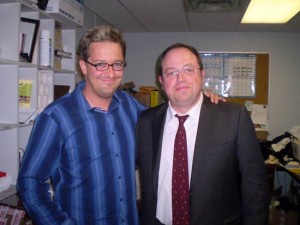 I also got to be a part of a dream show at Rumor's a few weeks back… as I performed with two of my favorite comics: Emo Philips and Brent Butt. It was truly a killer night. Brent may be best known these days for the TV show "Corner Gas", but I've always considered him and Derek Edwards to be the two best comics in the country. It was truly an honor to share the stage with a couple of greats.
February 4, 2008
There's big news on the horizon! On Tuesday, March 11th, I'll be celebrating 10 years of stand-up by headlining at Rumor's Comedy Club for the first time! I'll be doing 45 minutes to an hour and the event will be also be a fundraiser for Shealon Kuly, a Winnipeg teenager who is recovering from a serious accident. Half of the proceeds from every $10 ticket sold through this site will go to the fundraiser. The night also happens to be my birthday… so I anticipate much revelry afterwards! To support the fundraiser, tickets may be ordered through my site by e-mailing jbeck105@hotmail.com.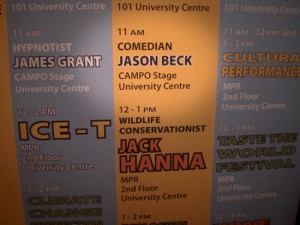 Had a strange experience performing a "nooner" gig at the University of Manitoba last month. Three quarters into my set in the middle of University Centre… in which I was performing to a few people in seats and another few hundred walking by… music started blasting through the same speakers I was using.
I danced around for a few seconds and was about to leave the stage when the music finally stopped. I thought I was being played off! It turns out that Jack Hanna – the guy from the Columbus Zoo who is always on the Tonight Show and Letterman with his animals – was up next… and that he was testing his sound system! His team can handle savage aardvarks from the wild but apparently can't work a p.a. system! Now that's a brush with fame.
February will be a bit of a rest month. For the first time in my life, I'll be taking a hot spot vacation and spending a week on a cruise in the Mexican Riviera. This is truly exciting… because the rubber chicken has never been to Mexico!
January 18, 2008
2007 was a great year for a lot of reasons.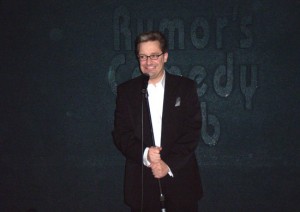 I changed my look on stage, hammered out some of my favorite new material, successfully stalked and met Sidney Crosby, showcased for Comedy Now! on CTV/The Comedy Network, spent New Year's Eve on stage in a tux at Rumor's Comedy Club and performed 166 shows… the most I've ever done in a year (breaking my previous record of 160… and shattering my five-year average of 150). 
In the year ahead, I'm hoping to focus more time on touring new areas of the country, and generally hitting the road more. The biggest change going into the year ahead is that 5 Winnipeg Comics will not be in the Winnipeg Fringe Festival this summer.
After eight straight summers and nearly 100 performances as a mainstay in the Fringe, 5 Winnipeg Comics is no more. The trio of Trevor Boris, Kenton Larsen and myself first appeared at the Fringe as 3 Winnipeg Comics in the summers of 2000 and 2001 before expanding to 5 Winnipeg Comics in 2002 with the additions of Warren Persowich and the late Jack Berkowski. While Warren and myself appeared in every show from that year on, over the years the line-up evolved to include Rob Bruneau, Charlie Onyske, Mel Silverback and – for the final year – Big Daddy Tazz and "The Big Bear" Gerry Barrett.
It's been a great run. The show was created as a place for us all to develop and in that regard I think it's served its purpose. And ending the run with Big Daddy Tazz hosting the show was truly a fitting way to wrap it up.
For me personally, I'm hoping to return to the Fringe a few years down the road with a one-man show or something a little different. In the meantime, I'm going to focus my attention on playing new cities and, hopefully, taking some of my summers back!
Happy New Year!