July 10, 2012
Last night was a truly special night at Rumor's Comedy Club in Winnipeg, as I was part of a benefit fund raiser for legendary Canadian comedian Mike MacDonald, who has been diagnosed with Hepatitis C and is unable to work.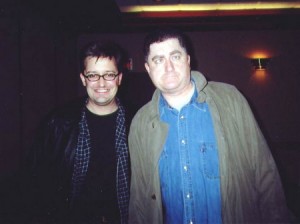 The show was a definitive "old guard of the Winnipeg comedy scene" evening, as the show featured emcee Al Rae, Dean Jenkinson, Big Daddy Tazz, Bruce Clark and myself.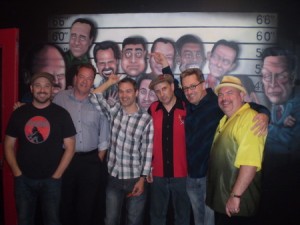 Current Rumor's headliner Ryan Dalton also appeared and closed the show. While the event was packed and raised a lot of much needed funds, the show itself was a blast. I'll never get tired of watching comics play off of the room and take shots at each other on nights like these.
Other than that, I've been spending an inordinate amount of time writing. Looking forward to working out a ton of new material this fall!
Cheers, Jason
February 22, 2012
I haven't updated this part of the site in quite a while… partly because I took a summer hiatus from performing after the last update… and partly because life has been getting in the way.
Had a great bonfire-packed summer in which I spent many mornings drinking coffee and writing jokes on my ipad 2 on the deck at the cottage. This was followed by an enjoyable run of corporate shows in the fall and over the holiday season. Even got to perform in the one and only McCreary, Manitoba!
2012… unfortunately… has not been good from a personal or comedy perspective.  In January, my beloved dog Lola got sick and passed away at only seven years old. It's difficult to be in a comedy mood when you lose a dog. I've always been one of those weird dog people… I'm closer to them than most humans. Losing a dog is like Jason Beck kryptonite. Well, that, and pretty much any physical force of any kind… .
Heading into the next week, I'm back on the road and tyring to get back to some kind of comedy normalcy. As normal as that gets… .
Between my dog Lola and Whitney Houston… I'm starting to think the Mayans were onto something… . Jason
July 1, 2011
Lately, I seem to be swimming in major life changes.
Last year, I put an end to a lifetime of resisting marriage and tied the knot. This year, I'm making a major change in my comedy career that is long overdue. After a decade of performances and over a thousand shows as a regular host and emcee at Rumor's Restaurant & Comedy Club, I have decided to put an end to my regular hosting gig and move in a new direction with my comedy career. My last show "hosting" at the club was on June 11th.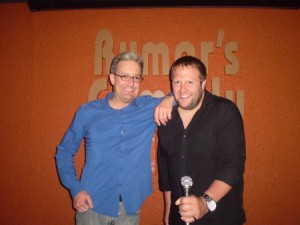 My good friend Rob Bruneau (below) also retired from hosting at the club after many years on the same night. We split the night, in that I hosted the early show and he hosted the late one. I have a long list of plans for the year ahead, but the simplest way to sum them up is: more touring the country… more writing… more stepping outside of my comedy comfort zone.
The Winnipeg comedy scene has exploded over the last five years… and it's about time that some of the many deserving up and coming local comics in the city had a chance to benefit from all of the stage time and development that a Rumor's house comic enjoys. I plan to take a hiatus from performing this summer in favor of writing, relaxing and sitting around bonfires.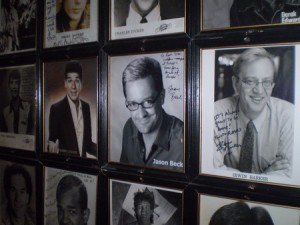 I'd like to thank the late Ross Rumberg for all of the years of stage time and support… and Tyler Schultz for carrying on that support. And, for putting me on the wall of the club next to the late, great Irwin Barker.
Cheers, Jason
May 29, 2011
Last night, I had the pleasure of working with Canadian comedian Tom Green.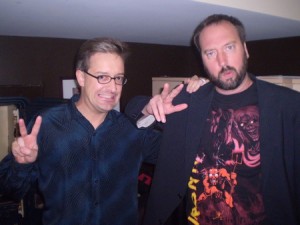 Despite his fame, his famously unpredictable persona, and his bizarre reputation, the Canadian funnyman was extremely mellow and down to earth offstage. Often, when performers known more for sketch comedy or acting perform in a professional comedy club, you never know what you're gonna get.
In Tom's case, he had been focused on stand-up comedy and honing his craft so seriously all over the world the past few years, that his headliner set was rock solid and seemed like it had been twenty years in the making. What made it even more impressive was that his trademark, unique Tom Green style of comedy found its way into the set. Here's hoping he makes Winnipeg a regular stop on the tour.
Cheers, Jason
April 4, 2011
It's been an insanely busy, overwhelming last few weeks.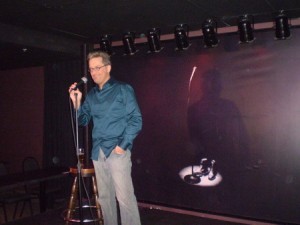 The weekend of March 24-26, I had the pleasure of doing five shows at Yuk Yuk's in Calgary with Trevor Boris and emcee Mario Lopez (a funny young guy who's prone to ripping his shirt off and dancing around at any given moment – kind of like a drunken oompa loompa).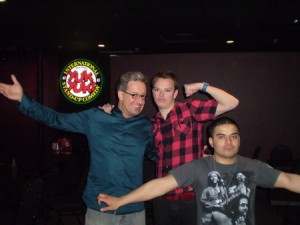 It was a well-run nice room with great site lines and a professional yet easy going staff. I look forward to playing the club again somewhere down the road. (left to right: Jason Beck, Trevor Boris and Mario Lopez)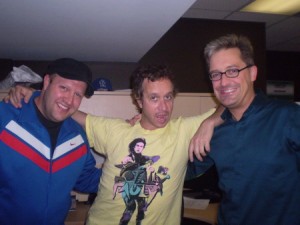 I also had the pleasure of doing four shows as part of a mini-tour with Pauly Shore and Rob Bruneau. We did two shows in Brandon, Manitoba followed by two in Winnipeg. Pauly Shore Manitoba Tour Shot: (left to right) Rob Bruneau, Pauly Shore and Jason Beck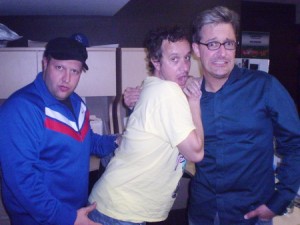 The weird thing about Pauly – having spent six hours in a car with him – is that he's pretty much the same guy he is in his movies. In fact, during a 15-minute stopover at a Tim Horton's in Brandon with Pauly, I'm pretty sure I was in a Pauly Shore movie for awhile.
Normal people get in line at Tim Horton's. Pauly leans against the front counter next to the cash register and riffs off of the customers. "Weaaaaaaseeeeeel !!!!!"
The week ahead is looking just as busy… with the CBC Winnipeg Comedy Festival just around the corner. Lots of good shows to see and good friends in town to have a beer with. Be sure to check out the many great shows at the Fest!
Cheers, Jason 
March 10, 2011
It's been a fun couple of months. I spent part of last month finally having a honeymoon – something we didn't get around to last summer.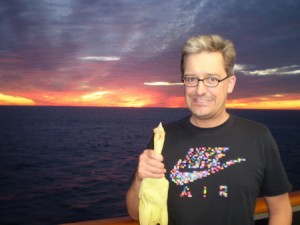 We got on a giant boat and journeyed to the Bahamas, St. Thomas and St. Martin in the Caribbean. It was a good time as we met lots of fun Canadian partiers all the way from Victoria to Halifax.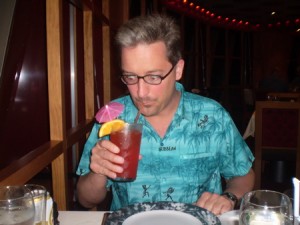 In the midst of it all, I won an 80s Name That Tune contest, met the guy who designed the actual Yoda puppet used in The Empire Strikes Back in St. Martin (Nick Malloy) and drank so many fruity Caribbean, rum-packed drinks I became a girl drink drunk!
The first week of March was Ross Rumberg Tribute Week at Rumor's Comedy Club in Winnipeg and the event was a comedy explosion as past headliners from across North American returned to the club to pay tribute to the man who built the club into what it is over the past three decades.
A good time was had by all and I have the good fortune to perform in three shows with the likes of Trevor Boris, Big Daddy Tazz, Darryl Lenox, Kelly Taylor, Glen Foster, DJ Hazzard, Lawrence Morgenstern, Daniel Kinno, Rich Ceisler, Jimmy Mac, and Matt Falk. I miss you Ross. Can't believe it's been a year already.
On the horizon, I'm looking forward to a lot of exciting and unique shows coming up… including performing with Pauly Shore at Rumor's on April 2nd… and my first ever venture to perform at Yuk Yuk's in Calgary from March 24-26. See you in Calgary in two weeks!
Cheers, Jason 
January 10, 2011
Nothing says Merry Christmas like a new Winter Classic Penguin jersey and a DEVO yellow suit!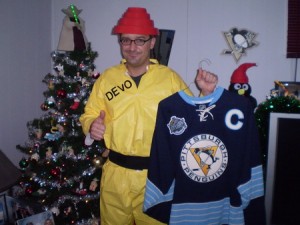 And, YES, that is a Yoda with a light sabre on top of the Christmas Tree… .
2011 is finally here and, as usual, it's all about goals and New Year's resolutions. In my case, it's about completing my new 80s material, continuing to work out as much new stuff at open mic rooms as possible and playing the cities in Canada I haven't yet played.
To start things off on the right foot, I'll be the feature act (middle) at Yuk Yuk's in Calgary, Alberta from March 24-26. For some reason, Calgary is one of those cities in Western Canada that I've never gotten around to playing. I've performed in Vancouver, Edmonton, all over Saskatchewan and all over Manitoba, but Calgary has somehow never worked out until now. I don't have a cowboy hat, but I will be arriving armed with two things that should help me connect to the Calgarians: hockey material and beer drinking expertise.
Apart from the "Live Dates" section which is updated weekly, I've been a little behind in updating this site. I think it's partly because of the busy holiday season and partly because I've gotten into the habit of updating things on Facebook on a regular basis. Please friend me on Facebook for more daily updates.
Happy New Year!
Jason
October 25, 2010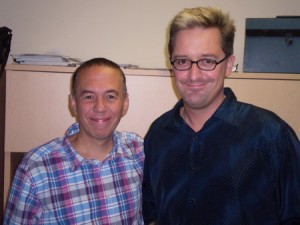 The last few weeks have been exciting, as I got the opportunity to perform with one of my favorite comedians of all-time, Gilbert Gottfried, at Rumor's Comedy Club.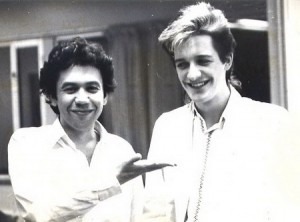 I had first met Gilbert 20 years ago back when I was a journalist (see black and white pic below). The old Gilbert never turned his persona off, couldn't stop talking and was constantly throwing one-liners. The 2010 Gilbert was a lot more mellow and extremely friendly. After the show, we took an updated photo. In the two decades between photos, he lost some hair and I gained glasses…
The same weekend, I also had the opportunity to see Saturday Night Live alumnus Norm MacDonald perform at the Burton Cummings Theatre in Winnipeg. I was fortunate enough to meet up with Norm two nights in a row, as he ended up dropping by Rumor's to see Gilbert the night before his show.
In between Gilbert's two Friday night sets, I had a chance to stand around talking comedy with Gilbert and Norm together for around 20 minutes or so. I can pretty much die now!
Lots of private corporate shows in Winnipeg and on the road are on the horizon between now and New Year's Eve. I'm looking forward to getting really busy over the next two months!
Cheers, Jason 
September 15, 2010
After taking somewhat of a break from stand-up over the summer, I'm back into it head first with more than 15 shows in September alone.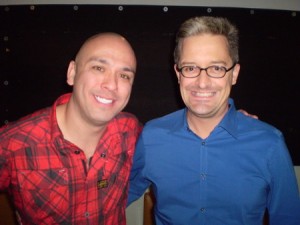 The highlight of the past month was Saturday, September 11th, when I had the opportunity to open for the soon-to-be-a-superstar headliner Jo Koy at the Pantages Playhouse Theatre in Winnipeg. It was a great night and Jo's two-hour set blew me away. With a sitcom in development from the makers of Roseanne, his career is exploding right now.
On September 24th and 25th, I'll be on the road in Brandon, Manitoba perfoming at Clancy's Pub with Toronto comic Roy Daye. Both nights, the shows start at 10:00 p.m. So far, the biggest thing that's different about being married is the daily guilt about the need to write as much marriage material as possible!
Cheers, Jason 
July 18, 2010
The big day has finally passed and I am now officially married!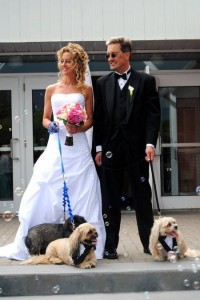 My bride Chantal and I set out to have the ultimate comedy wedding. Our dogs (left to right above) Lola, Chewy and Tazzy came down the aisle as part of the church ceremony, while Rob Bruneau delivered a reading I wrote entitled "True Love Is Like A Rubber Chicken".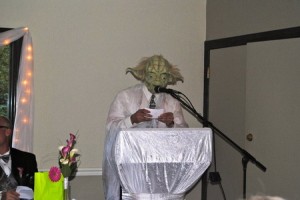 At the reception at Breezy Bend Country Club in Winnipeg, there were highlights galore, including me being thoroughly roasted in the tradition of the old Dean Martin Roasts by emcee Kenton Larsen, Big Daddy Tazz, Trevor Boris and Yoda the Jedi Master (as played by Dan Licoppe). Thanks so much to the roasters for being there!
Also, thanks to Lindor Reynolds of The Winnipeg Free Press for running a great story on our silly comedy wedding on page 2 of the Friday, July 17 issue. To read the article, go here. There will likely be pics galore of the wedding on this site in the weeks ahead, but in the meantime, I will be off on my honeymoon until my next show at Rumor's Comedy Club on Wednesday, July 28!
Cheers, Jason
July 7, 2010
Ten days till the big wedding and still a million things to do.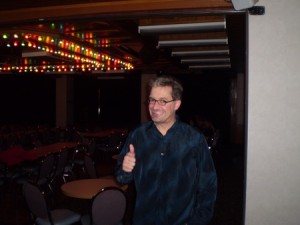 Following a ton of shows in May and June in Winnipeg, Toronto, Medicine Hat, Regina and Saskatoon (above), I've decided to pretty much keep off the stage for most of July until the wedding is behind me. When I do actually get back on stage at Rumor's Comedy Club in the last week of July with the lovely and talented Jimmy Mac, I'll be performing for the first time ever as a married guy. That will truly be weird.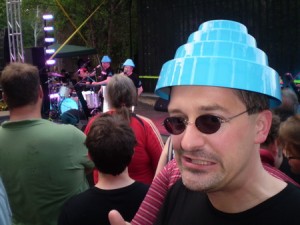 I had the pleasure of seeing and chatting with DEVO, one of my favorite bands of all time, last weekend.
If you ever liked DEVO, their first CD in 20 years "Something For Everybody" is a killer comeback album worth checking out.
When the wedding's over… I'm hoping to significantly update my set with a multitude of marriage material. Looking forward to spending less time on caterers and wedding cakes… and focusing more on stand-up again!
Cheers, Jason
May 18, 2010
Had a fantastic time doing shows in Toronto last week.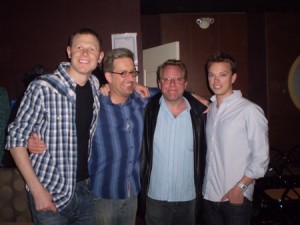 On Saturday, May 8th, I had the pleasure of co-middling two pro spots at Yuk Yuk's in downtown Toronto along with Trevor Boris, emcee Dylan Mandlsohn and headliner Mike Wilmot. The shows went great and I don't think I've ever enjoyed myself so much on that stage. The most interesting thing for me was seeing how well my Pittsburgh Penguin jokes went over in the extremely hockey-obsessed Toronto market.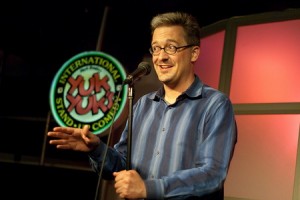 While in town, I also did a spot at Eton House, run by the lovely and talented Joanna Downey. It was a special night as also on the bill was Dave Hemstead, Boyd Banks, Sandra Shamas, Daryl Purvis and – once again – Mike Wilmot ("so, kid, I see you're playing all the haunts… ").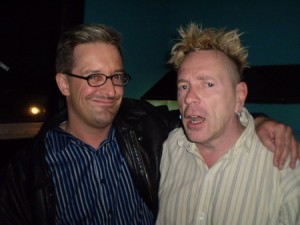 Another highlight of the trip was seeing a-ha at Massey Hall as well as Public Image Limited (featuring John Lydon aka Johnny Rotten of the Sex Pistols). Thanks to some well-established stalking skills, I managed to get a shot with Johnny, the icon, himself! A few days ago, I hammered out the most new material in one set in years at the Marlborough Comedy Night.
With my wedding just two months away, I'm hard at work on refreshing the set for the post-wedding shows on the horizon. Just in time for that, I'll be doing a whirlwind tour of Medicine Hat, Saskatoon and Regina from June 10-12.
Cheers, Jason
April 17, 2010
It's been a psycho-busy past month.
There's been lots of shows, lots of writing and lots of time spent on my Manitoba old-school wedding social. In the end, the social went great. It was sold out, my good friend Trevor Boris brought a posse of dancers who turned the whole thing into a massive party, and good times were had by all.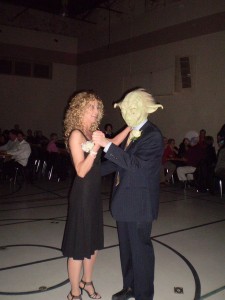 When it came time to do the traditional engaged couple slow dance, I chose to wear a Yoda mask to take a break from tradition. We also auctioned off a real Domo hat! Thanks to all the friends, comedians and relatives to made the event a success! Next month, I'll be doing some shows down East for the first time in a while! In the meantime, I've stated work on a mountain of new material about such topics as the '80s and – of course – getting married. It's pretty much going to ruin my "guy who won't get married" jokes… but at least it's a whole new world to attack on stage.
Cheers, Jason
March 10, 2010
Last week, my longtime friend Ross Rumberg, owner of Rumor's Comedy Club, passed away after a long series of health problems. In the end, his heart gave out, after a long struggle with diabetes and failing kidneys.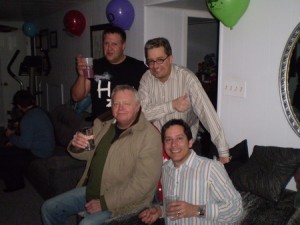 I was fortunate enough to be with him at the end, along with a number of his close friends. Ross Rumberg (front left) with Rob Bruneau and myself (standing) and Dan Licoppe (front right) partying in my basement last year. I'll never forget all that Ross did for me over the past decade.
When we met, I was an amateur comic that wasn't very good… and he was the comedy club owner whose job it was to tell me all of the things that I was doing wrong. One of the reasons that Ross was good at developing comics is that he was brutally honest in telling you what he thought of your performance. He didn't pull any punches. In the first few years I knew him, when I was trying to get him to hire me to work at the club, he threw a lot of those punches and I just kept coming back for more. When I started out, I was at a level where I'd get on stage at the club and hear things like… "Get off the stage!" and "You suck!!"
And that was just from Ross.
But after a while, I actually started listening to what he had to say, taking his advice, and, as a result, he kept giving me stage time and more chances to get better. In the years that followed, he ultimately put me up on his stage roughly 1000 times. A few years ago, when I headlined the club for the first time, I showed up and Ross had the entire staff wearing t-shirts with my Crabs At Fisherman's Wharf joke written on them. Most recently, he added the Jason Beck Beef Melt sandwich to the Rumor's menu, along with menu items named after some of his other close friends in comedy, like the Rob Bruneau Chicky Pita and the Jimmy Mac And Cheese Balls. This was a man who had a real warmth to him underneath the business side.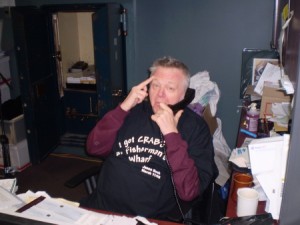 Over the last 27 years, Ross turned Rumor's into one of the best comedy clubs in North America. I say that because not only because many of the greatest comedians of all time played the club, but because he had a consistent product, he knew his customers and he was the king of filling the room.
He had a vision for his club that never wavered. Many of the headliners that play the club for the first time are dazzled by the size of the crowds Ross would bring in on Tuesdays and Wednesdays – nights when many comedy clubs are not even open because of the challenges of bringing in customers earlier in the week. Ross was also a stand-up comedian. He was an old-school, high energy comic who liked to riff with the audience and throw insults around. He used to love telling this one corny joke he wrote over and over again… "I just did a fundraiser for a place called Tempura House. It's a home for battered shrimp… ."
When it came to his health, he battled courageously. Despite being on dialysis for nine hours every night for the past few years, and often being physically weak, he dragged himself into Rumor's day-in and day-out to the point that by the final months, you could always hear someone in the office saying: "Go home Ross!" Even in the Emergency ward on the Saturday night before he passed, he was still sending texts and working out problems at the club.
In the end, he cared a lot about the people he chose to share his Rumor's universe with – and we cared about him. From the managers to the hosts to the headliners to the wait staff to the kitchen staff to his business partners – Rumor's was his life.
I'll never forget the faith he had in me. He changed my life.
Cheers, Jason
February 17, 2010
Apart from posting live dates, I haven't updated the site in a while because I've been obsessively busy planning for my upcoming wedding and Manitoba-style accompanying wedding social.
Normally, the bride and/or wedding party handles a lot of this stuff. Somehow, as a comedy producer and professional organizer, most of the duties have fallen on me. As my act is entirely based on my real life, this major life change has also meant that I've been busily writing marriage material with the intent of having it polished and ready to go by the time the wedding hits.
Speaking of major life changes, I've also made a commitment to being a little less out of shape in the year ahead, which means for the past month I've been working out three times a week trying to build up what my fiancé calls my "Kermit The Frog" arms… . I've actually found a gym that will serve you a beer in the hot tub, so I have a feeling I will be there a lot. Hopefully, all of these events will lead to lots of new material and an entirely new phase of comedy in the years ahead.
Cheers, Jason