December 11, 2005
Today… The Winnipeg Free Press ran a full-page story on the cover of the Entertainment section on my evolution from amateur comic to busy comic on the road. It was a pretty good story… though I look like a crazed psycho in the main photograph! Click HERE to read the story.
Cheers, Jason 
December 6, 2005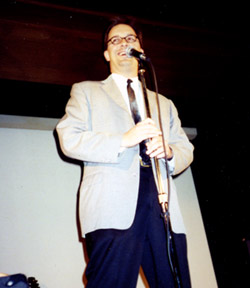 It's been a busy but interesting last few weeks. When I performed with Emo Phillips last month, he suggested that I try wearing a '50s suite on stage. He thought it would be a perfect fit with what he described as my "old style" fast-talking delivery. As a result, I've spent half dozen or so shows experimenting with the new look. So far, the shows in which I've worn the outfit have gone really well… especially with the older audience members. At one of the shows… an old lady came up afterwards and said: "I really enjoyed your act." I just kept thinking: "That's cause I'm dressed like your grad date!"
Following an exhaustive run of small town corporate shows that included headlining a fun night in Alida, Saskatchewan on Saturday night, there was some fun to be had on the local front as Rumor's Comedy Club in Winnipeg hosted a special taping for the new satellite radio comedy station (XM) on December 1st. The lengthy 13 comedian showcase delighted the full house… and I walked away with the knowledge that my marriage material was soon going to be broadcast across the country.
My anti-marriage stance has gone national! I guess I'm comedy's answer to Stephen Harper… except it's heterosexual marriage I have a problem with! Lots to look forward to in the weeks ahead… including a return visit to Portage La Prairie and a four-night stint in Brandon, Manitoba! If you're new to the site… please… SIGN MY GUESTBOOK!
November 2, 2005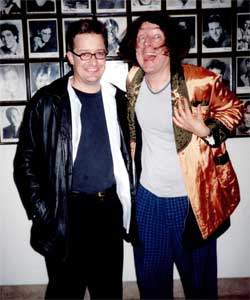 A lot of exciting things have happened since my last post, involving exploring strange new Western lands, working with one of my all time favorite comics and dressing up my dogs for Halloween. A few weeks back, I had a great time doing a half hour show in Gainsborough, Saskatchewan … playing to an all female audience and bringing my Ricky Martin parody out of mothballs just for the occasion. One of these days I'm going to go into cardiac arrest performing the bit (see the clip in the video clips section)… but it's still fun to do none the less.
By the way, if anyone is wondering what ever happened to Ed Asner… apparently he's in the witness protection program posing as the major of Gainsborough.
In the past week, I had the honor of hosting a show headlined by one of my favorite comedians, Emo Philips. As a teenager in the '80s, my three favorite comics were always Gary Shandling, Rodney Dangerfield and Emo. Considering that Gary never tours any more… and the odds of doing a show with Rodney decreased somewhat in the past year… this was a pretty big deal to me. Emo is as funny as ever and one of the true masters of joke writing.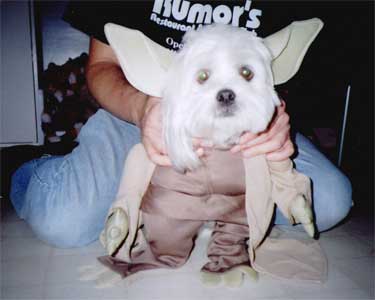 I didn't dress up for Halloween, but my dogChewy went as Chewbacca (no outfit needed), my dog Lola went as Princess Lola and my dog Tazzy wore a cool Yodacostume. Call the dog abuse prevention line nearest you. I'm looking forward to the Christmas comedy season and all of the small town adventures it usually brings.
This weekend… it starts already as I'm in The Pas for two nights… and just before Christmas I'm booked in Brandon for a three-night stint opening for funnyman, monkey-lover and good friend Dan Licoppe.
September 18, 2005
It's back to work as the Christmas season draws nearer. I took a much needed rest to write and re-charge my batteries since my last post… still performing but not as insanely often as in July. I did two shows last night and I feel like the burnout period is over and I'm ready to start working out material again.
As you may have noticed on the main page… after a long period of waiting and perserverance, I finally obtained the rights to jasonbeck.com ! Now the site can be accessed via jasonbeck.com OR jasonbeck.ca. It took a while because apparently there are a number of Jason Becks in the states and someone had owned the name for years. What's even more exciting is that I'm performing in Saskatchewan for the first time ever next month… I've never even driven through the province known for Dick Assman and The Northern Pikes. It just proves that in comedy… all dreams can come true.
August 1, 2005
It's finally August… a month in which I can get some rest and maybe sit on a beach for a while! After performing 11 straight nights in the Winnipeg Fringe Festival, I am looking forward to taking some time off this month to recharge my batteries. That's practically all I can think about. I'm like a zombie staggering around with my arms out going: "MUST GET SLEEP… ."
The Fringe went pretty well this year… . Our show, 5 Winnipeg Comics in… "Live From The Press Club!" drew good crowds and got great reviews… including 4 stars from The CBC and 3 1/2 stars from The Winnipeg Free Press! Our nightly line-up of Kenton Larsen, Warren Persowich, Charlie Onyske, Rob Bruneau and myself worked hard every night. I also had a great time producing my good friend Big Daddy Tazz's show "Bi-Polar Buddha". Now it's time to start writing next year's show. But first… MUST GET SLEEP!!!!!
July 12, 2005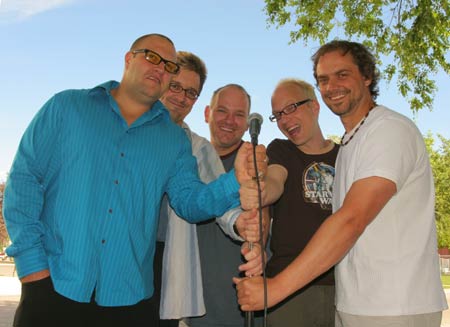 It's the busiest time of year… the Winnipeg Fringe Festival is upon us and that means 11-straight nights of shows! It's our sixth straight year in the Fringe… which as a comic has been a great motivator to keep writing new material.. This year… our Winnipeg Press Club venue is going to be a hotbed for great comedy… as the line-up will be:
6:30 – 7:30  …Big Daddy Tazz in "Bi-Polar Buddha" 
8:00 – 9:15 …5 Winnipeg Comics in… "Live From The Press Club!"  
10:00 – 11:00 …"Late Night At The Fringe With Trevor Boris" 
5 Winnipeg Comics… and our line-up of (above left to right) Rob Bruneau, myself, Charlie Onsyke, Kenton Larsen and Warren Persowich… are revved up and ready to go with tons of fresh new material. Big Daddy Tazz's one man show – produced by yours truly – is 50 minutes of pure laughs. 
Late Night At The Fringe With Trevor Boris – staring my good friend and former member of "5 Winnipeg Comics" Trevor Boris – was a huge hit last year and will be picking up right where it left off… it's a late night talk show in which Fringe stars are the guests. 5 Winnipeg Comics will be a guest on the show on Tuesday, July 26th. Tickets for any of these shows are available in advance by calling 9-4-FRINGE.
If you're visiting this site from the Fringe Festival web site and saw the show… please sign my guestbook and let us know your thoughts on the show. In the meantime… see you in the beer tent!
June 18, 2005 
As a result of my recent shows in Toronto, it looks like I'll be hitting the road a little more often in the years ahead. The opportunity has come up to start middling at Yuk Yuk's comedy clubs across the country on a more frequent basis… and I'm hoping to find the time to do a Western Canadian tour (Saskatchewan, Calgary, Edmonton and Vancouver) in the near future. I can now be found on the Yuk Yuk's web site.
This summer's Winnipeg Fringe Festival is a month away… which means things are insanely busy right now. Between all of the advance marketing and production work that goes into the show each year… and the fact that I'm still trying to work out as much new material as possible in the next month… there won't be much time to breath until the August long weekend! This summer, 5 Winnipeg Comics are back at the Fringe for a sixth year in a row… with "5 Winnipeg Comics in… Live From The Press Club!" This summer's show features the return of original member Kenton Larsen, along with Warren Persowich, Charlie Onyske, Rob Bruneau and myself.
This show is dedicated to the memory of Jack Berkowski… a member of the show for the past three years who passed away in May. The show takes place at 8:00 p.m. nightly from July 20th to 30th at the Winnipeg Press Club, in the lower level of the Ramada Marlborough Hotel. Tickets are available at the door or by calling 9-4-FRINGE starting the first day of the show.
As a warm-up to the new Fringe show… 5 Winnipeg Comics will be doing a special "Best Of" show featuring some of the funniest material from the past 5 years at Rumor's Restaurant & Comedy Club on Thursday, June 30th! Tickets are available by calling 488-4520. Hope to see you there! By the way… please take a second to SIGN MY GUESTBOOK! 
May 23, 2005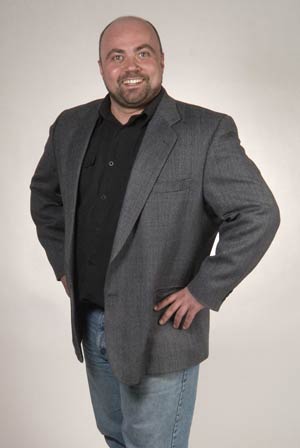 It has been an extremely sad week in the Winnipeg comedy scene, as good friend and beloved comedian Jack Berkowski passed away last week at the age of 40. Jack died of smoke inhalation following an accidental fire that broke out in his St. Vital apartment. Jack was a valuable member of 5 Winnipeg Comics, having performed with us in the Winnipeg Fringe Festival for the past three years. He was a solid perfomer on the local scene, having started in stand-up roughly 15 years ago. Apart from hosting at Rumor's Comedy Club for a number of years, he was also chosen to represent Winnipeg in a Yuk Yuk's national comedy competition in the early 90s. When reviewers were around, Jack won over the critics on a regular basis.
Having gone on the road with Jack many times, I will always remember him as a great comic to have the pleasure of performing with: he was polite and positive, extremely supportive of other comics and – most notably – capable of adjusting his act to give the audiences what they wanted… whether we were playing a smalltown dive or a banquet room in Dauphin packed with 400 Ukrainian Babas. He was one of those rare comics with the ability to blow the crowd away by improvising material off the top of his head. When he was on… no one could follow him.
A celebration of Jack's life will be held at 1:00 p.m., this Wednesday, May 25th, at the Weston Gospel Church in Winnipeg, 1787 Logan Avenue. Jack will be sadly missed both as a performer and a friend.
April 20, 2005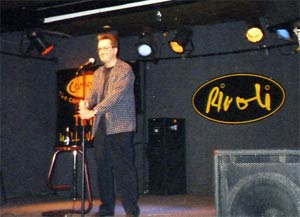 Had a great week on the road in Toronto… playing The Rivoli, Spirits and two shows at Yuk Yuk's in downtown Toronto! The Rivoli was a cool little room with a high theatrical stage and a variety of more edgy comics.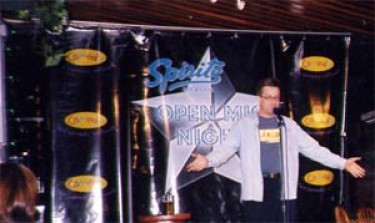 The Spirits show (hosted by the enchantingly funny and cynical Joanna Downey) had the same kind of fun atmosphere as the old Press Club Comedy Nights, though the line-up was packed with killer headliner comics.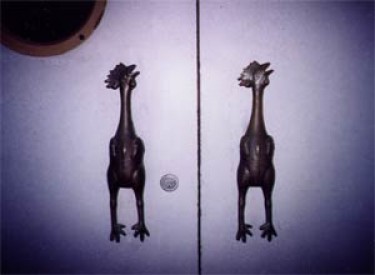 I felt at home at the downtown Yuk Yuk's club right away… as the room has a real slick yet friendly feel to it…
…and – more importantly – the door handles of the club are rubber chickens!
Apart from my good friend Trevor Boris – who I stayed with and had an awesome time with all week – I had the privilege of performing with the likes of Jason & Ryan Belleville, Rob Ross, Chuck Byrn, Terry Clement, Gilson Lubin, Martha Chavez, Peter Anthony, Ian Sirota, Roy Daye, and The Williamson Playboys.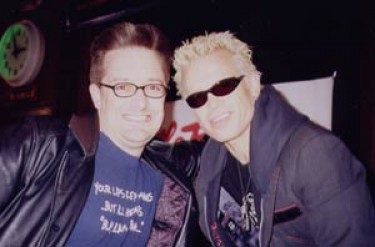 It was also a strange star-studded week… as I ended up meeting a pile of celebs… including Billy Idol, Lisa Marie-Presley, Bubbles, Ricky & Julian of The Trailer Park Boys and one of my favorite British bands… The Wonderstuff.
All engines are now focused on hammering out more new material for this summer's Fringe Festival show… . Our poster and materials are well underway and the site should be updated with all of that stuff next month. By the way… if you're one of those people who checks out this site from time-to-time and hasn't yet signed my guestbook… NOW'S THE TIME!
March 22, 2005
It's been an extremely busy month… with shows galore and preparations for this summer's July 20th to 30th Winnipeg Fringe Festival show underway. This summer, 5 Winnipeg Comics returns for a sixth straight year with a familiar balding head as founding member Kenton Larsen returns to the line-up.
The returning line-up of myself, Kenton, Warren Persowich, Charlie Onyske and Rob Bruneau have all been working hard hammering out new material for the show… and this summer promises to be a good one. On top of all that… our usual Winnipeg Press Club venue will be a hotbed for comedy this year… as Big Daddy Tazz will be performing his one-man stand-up show "Bi-Polar Buddha" before us every night… and Trevor Boris will be following us with the return of "Late Night At The Fringe With Trevor Boris".
The original Press Club Comedy Night – which I founded as a local open mic night back in 1998 – has changed venues once again. After three and a half years at the Press Club, the show spent a few years at the West End Cultural Centre before relocating to the Pyramid Cabaret for the past year. In the hopes of finding a venue that represents the one thing all of the comics are missing in their lives – intimacy – we have relocated to The Charleswood Hotel. Our first show on March 7th – which featured myself and such comedy luminaries as Rob Bruneau, Charlie Onyske, Kelly Loewen, Darcy Taves and Ross Rumberg – was a packed house and a great time. Our next Charleswood Comedy Night is on Monday, April 4th. 
Rumor's Comedy Club in Winnipeg has been overflowing with some stellar comics lately, and I've had the opportunity to perform with such brilliant talents as Orny Adams (pictured with me here, from the Seinfeld film Comedian) and my favorite Canadian comic, Mr. Derek Edwards. Sharing the stage with these guys fills me with both a sense of admiration and a whole new dislike for my own material.
In the midst of all of this madness, I am gearing up for four shows in Toronto in the second week of April. I'll be doing spots at Spirits, The Rivoli and a few nights at Yuk Yuk's in downtown Toronto. Please see the Live Dates section for more information.
February 15, 2005
It's that time of year again… the time of year when a comic gets tired of his own act and decides it's necessary to risk life and limb on stage hammering out new material. Over the past month and a half… I've churned out more than 20 typed pages of new stuff… which I'm hoping will translate into a completely new solid 15-minute set when I'm done working it out. Anyone who's either tried stand-up or seen the Jerry Seinfeld documentary film "Comedian"… knows just how harrowing the testing phase can be. I did an "all new material" 10 minute set at Rumor's Alternative Night on Monday, February 7th… and the jokes with the most potential turned out to be about hot dogs and going to a relationship counsellor (though I was clearly upstaged by an appearance by the legendary half Jewish/half mountain gorilla comic Mel Silverback).
Every set I do for the next two to three months is going to be an ongoing testing and editing process… so much of the old material may finally be getting a rest. Speaking of "Comedian"… Jerry Seinfeld's co-star in the film… Orny Adams… will be at Rumor's on March 3rd to 5th!
January 1, 2005 
Happy New Year!
2004 was the best year of my life comedy-wise… highlighted by a busy 160 shows… working as a host and emcee all year at Rumor's Restaurant & Comedy Club… performing on the road with Yuk Yuk's in Edmonton, Alberta and Brandon, Manitoba… the most successful and best-reviewed 5 Winnipeg Comics run at the Winnipeg Fringe Festival in the last five years… the launch of the JasonBeck.ca Web site… and my first theatre show performance to over 900 people at thePantages Playhouse Theatre!
I would like to thank everyone who helped push me further along in the comedy world over the past year… including Ross Rumberg, Big Daddy Tazz, Nancy Beaven, Chrysi Rubin, Pete Zedlacher and the late-great Kerry Talmage… along with the four comics I've spent the most time in the comedy trenches with over the years.. Trevor Boris, Kenton Larsen, Charlie Onyske and Rob Bruneau.
In the New Year, I'm hoping to do shows in Toronto, Calgary and if all goes well maybe even Vancouver. My other New Year's goal is to write some new material that doesn't involve the phrase: "huh-huh-huh… ."
Here's to a great 2005!
December 1, 2004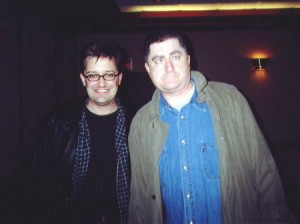 It's been a great last few weeks… Last week, I had the pleasure of going out on the road with the one and only Mike MacDonald, doing a 30-minute opening spot for him in front of an audience of 500 at the Westman Dreams For Kids fundraiser in Brandon, Manitoba.
Mike, who now resides in California, is one of Canada's all-time most successful stand-up comics, having spent the last few decades performing across North America and everywhere from Just For Laughs in Montreal (many, many, many times) to shows like Letterman and A&E's Evening At The Improv. I had a great time and felt kinda like Luke Skywalker on tour with Yoda…
Christmas show season is upon us… and December is going to be even busier. Apart from a large number of traditional stand-up shows… on Friday, December 17th, I'll be appearing in "A Ronnie Moore Christmas" with my good friend Ron Moore, those wacky improv guys fromCrumbs and sketch group Boiling Brain Pot. The show is 9:00 p.m. at the Forest Nickerson Theatre in Winnipeg. Apparently, the show is a dream sequence and I'm the ghost of Stand-up Comedy's Past or something like that…
I guess that means it's about time that I wrote some new material.
On a personal note… I just hit a comedy milestone having performed my 150th show of 2004! This has been the busiest comedy year of my life… so much so that I no longer have one. Have a great holiday season.
October 25, 2004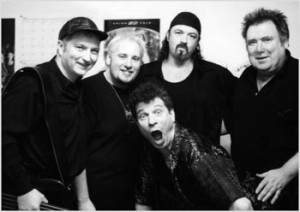 Today was the funeral of one of the funniest and most spirited guys I've ever met… Doug Bennett, lead singer of the legendary Canadian band Doug & The Slugs… who passed away suddenly earlier this month while on the road in Alberta.
The band had four gold albums and international success with such hits as "Making It Work", "Too Bad", and "Day By Day", and had just finished recording a pile of new songs that Doug had been working on since the mid-90s.
Over the past decade or so, myself and fellow comic Kenton Larsen have had the pleasure of getting to know Doug pretty well. Apart from hanging out with him two or three times a year when he's been in town (Doug was on tour for most of his 27 years fronting the band)… we've both had the pleasure of singing with him on stage, drinking with him and most importantly, watching him blow away one crowd after another.

Every time we heard he was in town, we dropped everything and made it to the show… whether it was at midnight on a weeknight or in one of the biggest dive bars in town.
The last time we saw him was back in March at the Palamino Club in Winnipeg. He played a new song: "Something Old, Something New, Something Borrowed, Something Blue". It was a classic Slugs song.
We always told Doug he should have tried his hand at stand-up, cause he was by far the most hilarious frontman of any band in the country. The audience banter he came up with off the top of his head night after night was gold. I'm not sure if we went to see him over and over more for the music or to hear him bust up the crowd.
My favorite memories of Doug are the nights when he really stirred it up: the many times he ripped apart a drunk guy on stage so bad I thought a brawl was going to break out; the time he played the McPhillips Street Station and almost got pulled off stage for spending his entire set calling the hundreds of watching gamblers "losers" for throwing their money away; and most notably, the time he dared me to sing the song "She's Looking At Me" with him on stage… which is a duet between a skinny guy (a former member of the Slugs) and a fat guy (him). I spent the whole day trying to memorize the skinny guy lyrics… and the second I got on stage and the song started, he just handed me the mic and went: "you're the fat guy… go!" Here's to Doug… . I hope they've got Jack Daniels up there…
October 3, 2004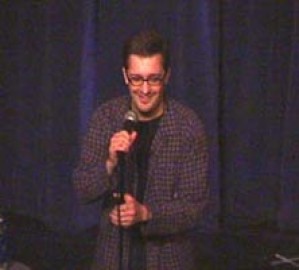 Last night, I had one of the most enjoyable shows of my comedy career, performing at the Mood Disorders of Manitoba fundraiser for more than 900 people at Winnipeg's historic Pantages Playhouse Theatre, an incredible room where legends like Charlie Chaplin, Johnny Cash and Crowded House have actually performed! Never thought you'd hear those three in the same sentence, eh?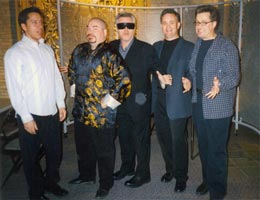 The show was rock solid from begining to end… with host Brad Oswald and comics Big Daddy Tazz, Dan Licoppe,Dean Jenkinson, Ross Rumberg and Warren Persowich all having great sets. For me, it was my first actual "theatre" show… and I was quite lucky to be surrounded by such a positive, encouraging line-up of performers.
Congratulations to show organizer Big Daddy Tazz on a phenomenal achievement that was a big hit with the audience while raising a lot of money for a good cause!
September 24, 2004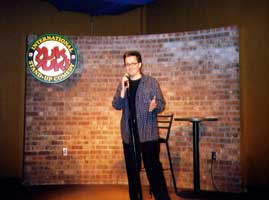 Just had a great weekend playing 5 shows at the Edmonton Yuk Yuk's to an average of over 300 people a show… with good friends Pete Zedlacher and Trevor Boris (who shot some exciting Paris Hilton-esque hotel video footage into the wee hours of Saturday morning…).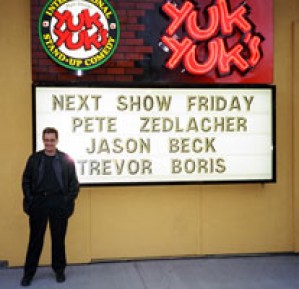 The shows were a blast and we also had some funny guest comics drop by to do spots including the one and only Howie Miller, Kerry Unger and Sean Lacomber.
We also got to spend time with funnyman and unbelievably nice guy Toby Hargrave… who showed us such sizzling Edmonton hotspots as West Edmonton Mall (where I got some great rubber chicken shots), his cool house (where we watched Pete's hilarious short film "Zombie Girlfriend") and an artsy restaurant (where Toby told tales so insanely funny he had Trevor literally flipping over couches with fits of laughter… . "Cheque please!").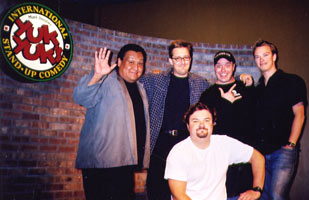 A good time was had by all and I can honestly say it was one of the most enjoyable weekends of my comedy career. I'd like to thank Chrysi, Steve, Tom and the staff at the club for their hospitality and for being so positive and fun to get to know all weekend. I really hope I can play the club again somewhere down the road.
(Comics in Yuk Yuk's photo from left to right: Howie Miller, Jason Beck, Pete Zedlacher, Trevor Boris, and Toby Hargrave (kneeling)).
Next week, I'm excited to be playing a fundraiser for the Mood Disorders Association of Manitoba with Big Daddy Tazz, Dean Jenkinson, Dan Licoppe, Ross Rumberg, Brad Oswald and fellow "5 Winnipeg Comics…" member Warren Persowich. It's at the Pantages Playhouse Theatre on Friday, October 2nd and tickets are available at all Winnipeg Safeways. For more info, CLICK HERE. I'm one of the guys referred to on the poster as "And Friends". I can't wait to play that room! 
September 9, 2004
This year's 5 Winnipeg Comics show at the Winnnipeg Fringe Festival was one of our best ever… with great attendance over the 12-night run and a 4-star review from the CBC! 
Rob Bruneau and Charlie Onyske were solid additions to the show… and Warren Persowich's monologue about his experience battling testicular cancer blew us all away night after night. He really kept the ball rolling… huh huh huh.
This year we also did a special encore performance of the show at Rumor's Restaurant & Comedy Club on Wednesday, August 4th… which was a lot of fun.
As you may have noticed, the web site is finally complete… well as complete as a web site can ever be… with lots of audio and video, celebrity schmooze shots and photos of me and my rubber chicken travelling the world.
Okay… I realize I look 15 in some of the photos… but you can't amass that large a collection of silly pictures without aging a bit… . I'm looking forward to taking it on the road this fall… as I'll be middling at Yuk Yuk's in Edmonton for 5 shows from September 16 -18. Pete Zedlacher (one of my three favorite Canadian comics) is headlining and the host will be Winnipeg's very own Trevor Boris, my good friend who has just been nominated for Best New Canadian Comic at the Canadian Comedy Awards. To vote for him, click here.
Once Edmonton is behind me… I'll be back at the Pyramid Comedy Night at the Pyramid Cabaret on Monday, September 20th.
I'd like to thank Don Woligroski (who designed our last two awesome Fringe posters) for designing this truly creative web site. If you're visiting for the first time… please sign my guestbook!
July 1, 2004
The summer of 2004 is going to be insanely busy… 12 nights in the Fringe… lots of Rumor's shows… and that's just July…
5 Winnipeg Comics returns to the Winnipeg Fringe Festival this summer with a new show: "5 Winnipeg Comics in… What has 5 heads and 9 nuts…?" that loosely refers to Warren Persowich's unfortunate loss of a testicle since last summer's show (this will all be elaborated on at the Fringe). This year, original show members Kenton Larsen and Trevor Boris are sitting it out. Kenton is undergoing his last few operations to look exactly like Sam Katz… and Trevor is going solo with his own late night Fringe talk show "Late Night At The Fringe With Trevor Boris" (see www.trevorboris.com for more details).
The additions of new members Charlie Onyske and Rob Bruneau should make for a new 5 Winnipeg Comics experience. Charlie is a good friend that I started doing comedy with – along with Kenton and Trevor – six years ago. Rob… who will be hosting the show… has made quite an impression on the local comedy scene in just two short years. Apparently, he's wanted to be in this show since he was in the womb… huh huh huh. I'm really looking forward to be performing on the Winnipeg Press Club stage once again.
In case anyone's out of town during the Fringe and still wants to check out the show, 5 Winnipeg Comics will also be headlining at Rumor's Comedy Club on Wednesday, August 4th!
June was a sad month in the comedy world with the passing of Kerry Talmage, a good friend and a hilarious comic. Kerry not only gave me great comedy advice and support… he actually called me from California to offer me shows from time-to-time.
I had the privilege of performing with Kerry the last night he headlined at Rumor's and… even though an audience member threw up all over both of us right before the show… we had a fun time performing (see photos of our last show together – having to share the same shirt ).
Every time I say one of the taglines on stage that Kerry suggested… like "taste great… less filling"… I will think of him.
A large number of local Winnipeg comics who knew Kerry – including myself – will be performing in a special Kerry Talmage Tribute Show to raise money for the Juvenile Diabetes Association at Rumor's Comedy Club on Tuesday, August 3rd. The show will be hosted by Ross Rumberg and also feature Big Daddy Tazz, Al Rae, Dean Jenkinson, Bruce Clark, Dan Licoppe, Billy Jaye, Trevor Boris, Warren Persowich, Charlie Onyske and other special guests. Tickets are available at (204) 488-4520. - Jason